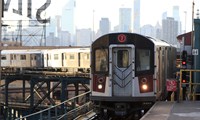 The Metropolitan Transportation Authority's (MTA) new 2020-2024 Capital Plan has proposed an investment of $51.5 billion into New York's subways, buses and railroads over the next five years to institutionalise and build on the progress of the Subway Action Plan to create a faster, more accessible and more reliable public transportation system.
The programme plans to invest more than $40 billion in New York City Transit's subways and buses – including crucial signal upgrades – as well as major investment in the Long Island Railroad, the Metro-North, and station, tunnel and bridge improvements.
Patrick J. Foye, MTA Chairman & CEO, said: "This plan expands service, increases reliability, speeds up the system and delivers the world's largest investment in accessibility. At the end of this five-year period, New Yorkers will see a revitalised and modern system."
"We now have the opportunity to quickly start building the system we need for the future, and through the use of the 'Design-Build' approach it will enable us to deliver those projects faster, better, and cheaper," said Janno Lieber, MTA Chief Development Officer.
The programme includes full funding for the second phase of the Second Avenue Subway from a mixture of federal and local sources. System-wide priority initiatives funded by the plan include signal modernisation, new subway cars, station accessibility, station improvements, and track replacement.
The investment will also fund more than 2,400 new buses, depot improvements and customer experience upgrades. It adds to the transition to a fleet composed fully of zero-emissions electric buses by 2029.
About Intelligent Transport
Serving the transport industry for more than 15 years, Intelligent Transport (formerly Eurotransport) is the leading source for information in the urban public transport sector.Covering all the new technologies and developments within this vitally important sector, Intelligent Transport provides high-quality analysis across our core topics: Smart Cities, Digitalisation, Intermodality, Ticketing and Payments, Safety and Security, The Passenger, The Fleet, Business Models and Regulation and Legislation.