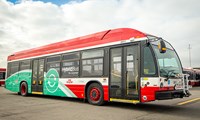 Nova Bus and the Toronto Transit Commission (TTC) have agreed on the delivery of 55 hybrid electric vehicles.
This announcement was made by the TTC, the City of Toronto and the Government of Canada, and the delivery is part of a larger order of 325 buses.
Nova Bus was selected by TTC after an intensive competition and evaluation period in 2017.
"We are very proud of this partnership which allows us to equip the TTC with the next generation hybrid electric buses and thus contribute to the City of Toronto's efforts to reduce its emissions," said Martin Larose, Vice President and General Manager of Nova Bus. "Our company is a major player in sustainable urban transportation and we're happy to offer Toronto public transit passengers buses that are reliable, safe and eco-friendly."
These next generation hybrid electric buses are driven by electric motors powered by on-board battery systems, both of which are produced by BAE Systems. This allows for better fuel economy and reduces maintenance costs and emissions. In addition, all on-board systems such as doors, HVAC and power steering are fully electrified.
"The Government of Canada is investing in efficient public transit systems to help reduce traffic congestion and improve air quality," said Adam Vaughan, Member of Parliament for Spadina–Fort York. "The TTC's new hybrid buses will benefit transit users across Toronto by providing modern new buses, while helping improve air quality and protecting the environment."
About Intelligent Transport
Serving the transport industry for more than 15 years, Intelligent Transport (formerly Eurotransport) is the leading source for information in the urban public transport sector. Covering all the new technologies and developments within this vitally important sector, Intelligent Transport provides high-quality analysis across our core topics: Smart Cities, Digitalisation, Intermodality, Ticketing and Payments, Safety and Security, The Passenger, The Fleet, Business Models and Regulation and Legislation. With articles from across the globe, we explore how and why industry decision makers operate the way they do, and examine how technology is changing the dynamics of transport.