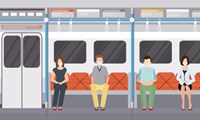 Independent watchdog Transport Focus and London TravelWatch have called for reassurances for passengers after a UK survey revealed three in five people (62 per cent) wouldn't feel comfortable using public transport after the COVID-19 lockdown unless social distancing measures had been installed.
Anthony Smith, Chief Executive of Transport Focus, said: "After months of being told not to travel, people will understandably be fearful about venturing out. The government must outline in its upcoming roadmap for easing lockdown what measures it will put in place to reassure people they can travel safely."
Key survey findings include:
83 per cent think hand sanitiser should be available on public transport vehicles, at stations, and at stops
62 per cent won't use public transport unless social distancing is in place
51 per cent wouldn't be happy using public transport unless passengers are required to wear face masks
People aged 18-24 are most comfortable about returning to public transport (40 per cent).
While people in London are expected to cycle and walk more, there is expected to be a surge in private journeys by car outside of London. The organisations have urged that 'active travel' must be encouraged, in and out of London, to prevent roads becoming more congested.
Emma Gibson, Director of London TravelWatch, said: "It is interesting to see that Londoners place more importance on people wearing face masks as they move around the capital than people in other areas around the UK and that a higher percentage of Londoners in the survey would travel without social distancing or hand sanitiser available at stations or stops. Perhaps that is because they rely on public transport more than anyone else in the country."
"Like everyone, Londoners are concerned about travelling once restrictions are lifted in the capital, but a greater number of people intend to walk and cycle more often, compared to other parts of the country. Also bucking the trend, Londoners are less likely to say that they will drive more in order to avoid using public transport."
About Intelligent Transport
Serving the transport industry for more than 15 years, Intelligent Transport is the leading source for information in the urban public transport sector. Covering all the new technologies and developments within this vitally important sector, Intelligent Transport provides high-quality analysis across our core topics: Smart Cities, Digitalisation, Intermodality, Ticketing and Payments, Safety and Security, The Passenger, The Fleet, Business Models and Regulation and Legislation.