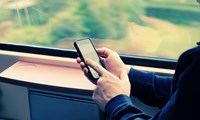 A new report into commuters' spending habits, conducted by Kinetic and Exterion Media, in partnership with the Centre for Business and Economics Research (Cebr), has revealed that the value of commuter commerce to the UK economy is £22.8 billion per year (14 per cent of annual online spending in the UK).
The report focused on commuters who use public transport, including travel via minibus and coach.
The research considered both products and services purchased via mobile devices whilst on the move, ranging from clothing to insurance. Across the UK, the average weekly spend for commuters is £89, rising to £153 a week for commuters in London.
In all regions surveyed, clothing was the most popular purchase, with 76 per cent of those surveyed saying they'd purchased clothes in the past year. This was followed closely by purchases in health and beauty (71 per cent), activities (69 per cent), and grocery shopping (65 per cent).
It was also revealed that 70 per cent of commuters have made a purchase as a result of advertising during their journeys. Commuters commented that outdoor advertising seen on a commute often reminded them to shop, proving the power of Out-of-Home (OOH) advertising.
Stuart Taylor, CEO of Kinetic, said: "Our research shows that in today's age of time-poor consumers, the everyday commute is fast becoming a valuable opportunity to make purchases. At a time when footfall is declining on our high streets, these findings confirm that retailers can nevertheless reach a valuable urban audience in a physical environment. With OOH advertising acting as the link between online and offline retail, reaching 98 per cent of consumers nationally, it's an opportunity that retailers cannot afford to ignore. Moreover, advancements in OOH technology mean that brands can serve commuters with dynamic creative based on environmental factors such as weather, location and time of day – remaining hyper-relevant even when 'offline' and out of store."
Nigel Clarkson, Chief Revenue Officer at Exterion Media, added: "Commuters are the lifeblood of the UK, and hugely important to the economy, businesses and advertisers; they keep our nation moving and growing, as they travel. Our research proves the commercial impact of the commuter economy, through the billions contributed to online retail annually. The shift away from physical sales has made online purchasing and payment so prevalent, and we know that OOH ads can drive product search and purchase within seconds of adverts being seen. This means that pretty much every OOH advert – whether a classic poster ad or a video on a digital screen – has become a point-of-sale opportunity for brands."
About Intelligent
Serving the transport industry for more than 15 years, Intelligent Transport (formerly Eurotransport) is the leading source for information in the urban public transport sector. Covering all the new technologies and developments within this vitally important sector, Intelligent Transport provides high-quality analysis across our core topics: Smart Cities, Digitalisation, Intermodality, Ticketing and Payments, Safety and Security, The Passenger, The Fleet, Business Models and Regulation and Legislation. With articles from across the globe, we explore how and why industry decision makers operate the way they do, and examine how technology is changing the dynamics of transport.