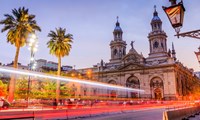 ENGIE has been awarded a contract to provide Santiago's public transportation system with the lease of 100 electric buses and installation and maintenance of the related electric charging infrastructure, supplied with 100 per cent certified renewable energy.
This initiative is part of the country's Public Transportation Plan for the Third Millennium announced by President Sebastián Piñera, which aims to improve the public transportation system both in terms of quality and sustainability.
The objective is to develop a 100 per cent low-emission system with 6,000 electric buses set for operation by 2040.
With 200 electric buses scheduled to be functioning in Santiago by 2019 – half of which will be supplied by ENGIE – Chile will become the country with the second largest electric bus fleet following China.
Recently, ENGIE has carried out a number of sustainable initiatives, including the proposal of a light rail system to link Santiago's airport to the city, the implementation of the first electric taxi fleet in Santiago, the development of an intelligent network of charging stations for electric vehicles and the launch of a range of services based on electric mobility to offer delivery and car-sharing through MuvSmart.
Pierre Chareyre, ENGIE Executive Vice President, in charge of the Business Units Global Energy Management and Latin America, said: "Santiago is at the forefront of the energy transition in Latin America and ENGIE is proud to be a partner of choice for Santiago in improving its quality of life and attractiveness."
In line with its aim to become the leader of the energy transition for cities and regions, ENGIE delivers a broad range of products and services to enhance quality of life in urban environments. At the heart of the strategy for cities, green mobility is key to improve air quality and reduce greenhouse gas emission levels, enabling cleaner and efficient fuels, smoother traffic flows and more efficient mass transit.
About Intelligent Trasport
Serving the transport industry for more than 15 years, Intelligent Transport (formerly Eurotransport) is the leading source for information in the urban public transport sector. Covering all the new technologies and developments within this vitally important sector, Intelligent Transport provides high-quality analysis across our core topics: Smart Cities, Digitalisation, Intermodality, Ticketing and Payments, Safety and Security, The Passenger, The Fleet, Business Models and Regulation and Legislation. With articles from across the globe, we explore how and why industry decision makers operate the way they do, and examine how technology is changing the dynamics of transport.