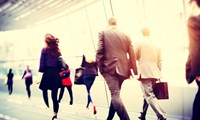 ST Engineering has unveiled Singapore's first gateless hands-free automatic fare collection (AFC) system; enabling commuter verification to take less than one second and with the potential to improve operational efficiency for rail operators by more than 50 per cent.
Adopting long-range radio-frequency identification (RFID), facial recognition and stereoscopic people-counting camera technologies, the AFC system allows commuters to walk through barrier-less passageways without tapping fare cards.
Commuters will need to register an account and take a photo at the Interactive Traveller Terminal (ITT) to be issued with an RFID card, wristband or key tag for hands-free access. Travel cards and key tags in bags or pockets, wristbands and facial features will be automatically detected by the system as the passenger approaches.
The AFC system also incorporates heightened security features to facilitate enforcement action against errant commuters and activities such as tailgating and payment evasion. The passageway will light up in green or red to indicate valid and invalid access respectively.
Ravinder Singh, President of Electronics, ST Engineering said: "The rail industry is readily embracing digital transformation to keep pace with urbanisation and increasing commuter demands. Global rail operators are intensifying efforts to enhance passenger experience while having to ensure that train operations and infrastructures stay secure and reliable, as well as easily maintained. We will continue to help drive technology adoption by our customers, leveraging our rail engineering and technology expertise."
The company recently collaborated with Land Transport Authority (LTA) to trial the deployment of the hands-free AFC at Redhill, Tiong Bahru, Kembangan and Bedok MRT stations, enabling passengers with reduced mobility to enter and exit train stations with ease.
About Intelligent Transport
Covering all the new technologies and developments within this vitally important sector, Intelligent Transport provides high-quality analysis across our core topics: Smart Cities, Digitalisation, Intermodality, Ticketing and Payments, Safety and Security, The Passenger, The Fleet, Business Models and Regulation and Legislation. With articles from across the globe, we explore how and why industry decision makers operate the way they do, and examine how technology is changing the dynamics of transport. The expansion in technology is part of the reason we've transitioned from Eurotransport to become Intelligent Transport. We will continue to bring you the latest news and views from industry insiders and experts, but with a global reach that will offer insight on developments and projects from all seven continents.