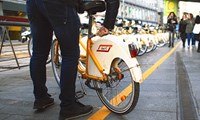 On 15 June 2020, a day of discussion with companies, start-ups and research centres will take place online, as part of the 'Smarter Italy' programme, an initiative launched by the Italian Ministry of Economic Development, in collaboration with the Agency for Digital Italy (AgID). The aim of Smarter Italy is to accelerate the country's growth through the use of innovative contracts. The day, which will be followed by further studies, has been designed to prepare for the tender and uptake of smart mobility solutions.
During the day, innovation needs in the field of transport and logistics management will be presented, particularly those that contribute to a rapid recovery from the COVID-19 emergency.
The presentation of the needs will take place with the collaboration of the 11 Municipalities that have contributed thus far, and the subsequent trials of the smart mobility solutions will be held in these locations. The Municipalities are Bari, Cagliari, Catania, Genoa, L'Aquila, Matera, Milan, Modena, Prato, Rome, Turin, and will include some villages and towns of smaller size, which is designed to represent the demographic characteristics of Italy.
The objective of the market consultation day is to allow AgID to acquire useful elements for the preparation of the innovation tender for smart mobility.
The tender, with a financial endowment of €20 million, will be launched in the coming months and published on the national portal for innovative contracts.
At the end of the consultation, the €20 million tender will start, aimed at researching and developing new tools that predict and manage traffic flows, offer solutions to meet the mobility needs of less populated areas or those with weakened demand, and improve the mobility of goods in cities as well as the mobility of people in historic centres and villages.
About Intelligent Transport
Serving the transport industry for more than 15 years, Intelligent Transport is the leading source for information in the urban public transport sector. Covering all the new technologies and developments within this vitally important sector, Intelligent Transport provides high-quality analysis across our core topics: Smart Cities, Digitalisation, Intermodality, Ticketing and Payments, Safety and Security, The Passenger, The Fleet, Business Models and Regulation and Legislation.