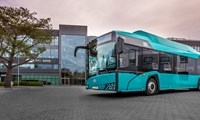 The process of seeking an investor for Solaris Bus & Coach has been successfully closed with CAF (Construcciones y Auxiliar de Ferrocarriles) acquiring 100 per cent of the company's shares.
This transaction will ensure the leadership of both CAF Group and Solaris in the supply of urban public transport solutions for Europe; strengthening the position of both brands in international markets.
The CAF is engaged in the design, production, maintenance and supply of rolling stock and rail vehicles, alongside solutions for urban transport, including e-mobility.
"CAF's investment in Solaris confirms our commitment to the vision of profitable growth and opens new strategic markets to CAF," said Andrés Arizkorreta, President and Chief Executive Officer of CAF Group. "Together with Solaris, we will create a leader in urban mobility solutions beyond rolling stock, particularly in the e-mobility segment. We want to continue using, and develop, Solaris' valuable brand and keep its Polish character. The combination of both companies' know-how in production, design, technology and services, together with the track record of Solaris in bus product innovation will allow us to better serve our clients while creating shareholder value."
Solange Olszewska, Founder of Solaris Bus & Coach S.A., said: "It was not an easy decision for me and my family. Over 20 years ago, my husband and I founded our company that now employs nearly 2,500 people and is active in more than 30 markets. However I know that I am leaving the company in good hands. The CAF Group will continue the best practice in the Solaris brand and let it grow even more."
"We want to ensure all stakeholders of CAF and Solaris, in particular our customers and suppliers, that we will continue all business processes and cooperation in an unchanged form and fulfil all our obligations resulting from the binding agreements," added Arizkorreta.
Additionally, CAF has entered into an agreement with the Polish PFR investment fund – Polski Fundusz Rozwoju – for the acquisition by the latter of a minority stake in Solaris (35 per cent). This agreement will materialise once the administrative procedures are finished. Through the participation of a solid financial partner like PFR as a minority shareholder, CAF maintains the Polish identity of Solaris.
About Intelligent Transport
Serving the transport industry for more than 15 years, Intelligent Transport (formerly Eurotransport) is the leading source for information in the urban public transport sector. Covering all the new technologies and developments within this vitally important sector, Intelligent Transport provides high-quality analysis across our core topics: Smart Cities, Digitalisation, Intermodality, Ticketing and Payments, Safety and Security, The Passenger, The Fleet, Business Models and Regulation and Legislation. With articles from across the globe, we explore how and why industry decision makers operate the way they do, and examine how technology is changing the dynamics of transport.