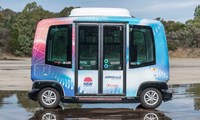 Armidale, a city in New South Wales, has completed the trial of its fully electric autonomous shuttle, better known as ARDi, as it completed its last trip on 20 February.
"Armidale has played a major role in testing the future of regional transportation, with ARDi achieving a number of Australian-firsts," a Transport for New South Wales (TfNSW) spokesperson said. "He became the first automated shuttle to operate in mixed traffic within a city centre and operated on one of our longest and most complex trial routes."
"The trial looked to understand the technical capabilities of ARDi and how he integrated into the transport network, providing a trial service to the passengers in Armidale."
The first phase of the trial saw ARDi operating in the University of New England before moving to Armidale CBD, operating a new route bounded by Rusden, Faulkner, Moore and Dangar Streets.
"ARDi will now head off for a well-deserved break but it's likely he'll visit another part of the state in the future as we continue to test automated technology," the TfNSW spokesperson said.
"We already know this technology has the potential to increase safety, minimise congestion, improve productivity and help make people more mobile, but we need to keep trialing in different environments to get the best local outcomes."
Armidale is one of three regional centres chosen by the NSW government to host autonomous vehicle trials. The ARDi trial was delivered in partnership with Armidale Regional Council, EasyMile, Transdev, WSP, QBE Insurance, Edwards Coaches and the University of New England.
Outcomes of the ARDi trial include:
UNE phase one route was the most complex route of any EasyMile deployed vehicle globally due to its real world road infrastructure and interchanging environments
ARDi was one of the first autonomous vehicles in Australia operating in live traffic conditions in both the UNE and CBD trial routes
The five kilometre UNE route was the longest shuttle deployment in Australia
Night time service at UNE provided a unique environment to test the vehicle
CBD phase two route integrated into CBD traffic conditions navigating bus stops, pedestrians, roundabouts, motorists and pedestrian crossings.
About Intelligent Transport
Serving the transport industry for more than 15 years, Intelligent Transport is the leading source for information in the urban public transport sector. Covering all the new technologies and developments within this vitally important sector, Intelligent Transport provides high-quality analysis across our core topics: Smart Cities, Digitalisation, Intermodality, Ticketing and Payments, Safety and Security, The Passenger, The Fleet, Business Models and Regulation and Legislation.