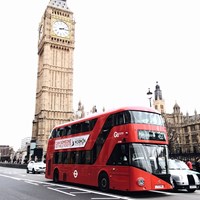 In the latest measure by the Mayor to tackle the climate emergency and the air quality health crisis, two bus routes will become the UK's first bus routes to use only electric double-deck buses by autumn 2019.
London currently has more than 200 electric buses making it Europe's largest electric bus fleet. This will continue to grow next year as Transport for London (TfL) has awarded contracts to operators for a further 78 electric double-deck buses, which will carry around 18.5 million passengers across the capital each year.
The Mayor of London, Sadiq Khan, said: "London's toxic air is a shameful health crisis which is causing premature deaths and stunting the growth of children's lungs. Today, as part of our work to tackle the harmful emissions we breathe and to help tackle the climate emergency, I am proud to announce the first two routes which will exclusively use electric double deck buses."
The new zero-emission buses are not only helping to reduce carbon emissions and improve the air for all Londoners but are also improving the customer experience on buses. A journey in an electric bus is smoother and quieter than one with a traditional engine, and customers will have access to free-to-use USB charging points.
The Mayor has also confirmed that Low Emission Bus Zones at Chiswick High Road and Uxbridge Road have now been completed, which means that TfL has delivered all 12 Low Emission Bus Zones earlier than planned – the Mayor's previous target was 2020.
As a result of these zones, Londoners who were exposed to some of the highest levels of dangerous nitrogen dioxide pollution are now experiencing an average 90 per cent drop in bus-related NOx emissions.
"This is part of our £300 million plan to transform London's entire bus fleet, which is set to reduce bus NOx emissions London-wide by an average of 90 per cent by October 2020," Sadiq Khan commented.
The Mayor has also committed to making all buses within the M25 zero emission by 2037.
Gareth Powell, TfL's Managing Director for Surface Transport, said: "London is a leading world city at the heart of global innovation, and it is the latest green technology, like electric double decks, that will help tackle the air quality crisis. These new buses mark a major moment on the road to a fully zero-emission fleet. With more electric double decks buses to follow, and all new single deck buses required to be zero-emissions from next year, buses are helping to bring the capital's air inside legal limits. Next year, all 9,000 buses in London will be contributing to cleaner air."
Metroline's Chief Executive Officer, Sean O'Shea, said: "This is an important milestone for Metroline, and London, as we continue to deliver greener and cleaner transport for our customers. Metroline have made a substantial investment and commitment to electric buses, making the UK's largest single order."
About Intelligent Transport
Serving the transport industry for more than 15 years, Intelligent Transport (formerly Eurotransport) is the leading source for information in the urban public transport sector. Covering all the new technologies and developments within this vitally important sector, Intelligent Transport provides high-quality analysis across our core topics: Smart Cities, Digitalisation, Intermodality, Ticketing and Payments, Safety and Security, The Passenger, The Fleet, Business Models and Regulation and Legislation.