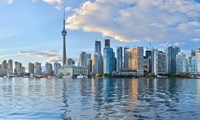 Toronto Transit Commission (TTC) has ordered 10 zero-emission, battery-electric transit buses as it continues efforts to transform its fleet to 100 percent emissions free by 2040.
The heavy-duty buses, from New Flyer Industries Canada, are 40 foot-long Xcelsior CHARGE models, and TTC's purchase supports its electric bus programme – part of which is its commitment to purchase only emission-free buses starting in 2025.
TCC sourced three candidates, of which New Flyer was selected from, to collaborate with TTC in the evaluation of battery-electric buses for service, offering buses with long range and overnight charge capability. The collaboration will assist TTC and the greater public transportation community with the development of bus specifications and the integration of future electric-bus procurements.
The order also includes an option to purchase up to 30 additional buses over the next two years.
TTC's electric bus programme is supported by funding from Infrastructure Canada's Public Transit Infrastructure Fund (PTIF) and the Government of Ontario's GHG Challenge Fund.
Depot charging for the buses will be powered by Toronto Hydro, TTC's electricity provider.
Jennifer McNeill, Vice President, Sales and Marketing, New Flyer, said: "We look forward to working with TTC as it paves the way for zero-emission transportation in Canada, while improving mobility for the GTA and preserving its surrounding environment."
The TTC delivers more than 536 million trips per year with subways, streetcars, buses and a specialised service, Wheel-Trans, for people with reduced mobility. TTC operates more than 140 bus routes and embeds sustainability into the core strategic objectives of its Five-Year Corporate Plan by reducing greenhouse gases, air pollution and congestion on Toronto roadways.
About
Intelligent Transport
Covering all the new technologies and developments within this vitally important sector, Intelligent Transport provides high-quality analysis across our core topics: Smart Cities, Digitalisation, Intermodality, Ticketing and Payments, Safety and Security, The Passenger, The Fleet, Business Models and Regulation and Legislation. With articles from across the globe, we explore how and why industry decision makers operate the way they do, and examine how technology is changing the dynamics of transport. The expansion in technology is part of the reason we've transitioned from Eurotransport to become Intelligent Transport. We will continue to bring you the latest news and views from industry insiders and experts, but with a global reach that will offer insight on developments and projects from all seven continents.