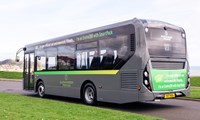 Stagecoach has confirmed a partnership with Alexander Dennis Limited (ADL) and Fusion Processing to produce and trial the UK's first full-sized driverless bus.
Once complete, the 12m ADL Enviro200, a single deck bus, will be completely autonomous and able to operate without a driver in an off-road environment. The technology also delivers road safety benefits when driven in manual mode.
In the short term, the bus will be used in autonomous mode only within the depot environment – parking and moving into the fuelling station and bus wash. Using self-driving vehicles within depots more widely could help improve safety, efficiency and space utilisation within the depot.
Legal restrictions mean the vehicle will not be used in autonomous mode in passenger service for the foreseeable future. However the system can be used straight away to help improve the safety of road users. For example, when the bus is driven in manual mode, the sensor system on the bus, whilst not engaged to drive the vehicle, can still assist by warning the driver of cyclists or pedestrians that may be in a blind spot or arrive unexpectedly close to the vehicle.
Over time, autonomous bus technology is expected to be used frequently, including on passenger services.
Stagecoach UK Bus Engineering Director, Sam Greer, said: "This is an exciting trial that will deliver the UK's first fully autonomous single deck bus. We look forward to working with our partners on this project which we believe could, in time, help improve safety and efficiency within our depots, and in the long term, help transform bus travel in the future."
Work on the vehicle is being carried out at ADL's site in Guildford and the bus is expected to be ready for use by the end of 2018.
The Stagecoach bus will be fitted with Fusion Processing's CAVstar system which was utilised successfully in the UK's largest public trial of autonomous vehicles. The system uses multiple sensor types, including radar, laser, camera and ultrasound, along with satellite navigation to detect and avoid objects, in all weathers, to plan an optimum path for the vehicle.
Ken Scott, Group Engineering Director at ADL, commented: "ADL is renowned for harnessing the latest technology solutions to enhance our products and services to benefit our customers, their passengers and the wider environment. This project will deliver real and demonstrable improvement to efficiency and safety in depots, while taking another significant step on our journey to bringing fully autonomous vehicles to market."
About Intelligent Transport
Covering all the new technologies and developments within this vitally important sector, Intelligent Transport provides high-quality analysis across our core topics: Smart Cities, Digitalisation, Intermodality, Ticketing and Payments, Safety and Security, The Passenger, The Fleet, Business Models and Regulation and Legislation. With articles from across the globe, we explore how and why industry decision makers operate the way they do, and examine how technology is changing the dynamics of transport. The expansion in technology is part of the reason we've transitioned from Eurotransport to become Intelligent Transport. We will continue to bring you the latest news and views from industry insiders and experts, but with a global reach that will offer insight on developments and projects from all seven continents.