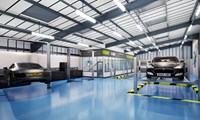 Nottingham Electric Vehicle Services (NEVS) will offer MOTs and servicing to customers across the city and beyond, as well as maintaining the council's own growing ultra low emission fleet.
The council is well on target to convert 22 per cent of its fleet to ultra low emission vehicles (ULEVs) by 2020 as part of the Local Plan to Improve Air Quality in the city, and the Electric Vehicle Services centre will allow the council's Fleet team to expand in to a market which is currently under-served and on the verge of rapid growth.
Councillor Adele Williams, Portfolio Holder for Transport, said: "NEVS will become an integral part of the electric infrastructure, helping to support the council's ambition to be carbon neutral by 2028. We have already achieved our energy strategy target of a 26 per cent reduction in carbon dioxide emissions by 2020, and we are on track to meet our 2020 target of 20 per cent of energy generation from low carbon sources."
"Nottingham Electric Vehicle Services will enable us to maintain both our own vehicles and offer these services out to other councils and businesses, providing a hub for electric vehicles in the East Midlands. We want to provide this service to members of the public as well, and hope to roll this out next year – so our Eastcroft depot will be able to service and MOT electric vehicles in addition to petrol and diesel cars."
"ULEVs are the future for the motor industry, and this centre will allow Nottingham City Council to continue leading the way in what is currently a niche market in terms of service and maintenance of electric vehicles."
The centre will cater for electric cars, vans and taxis, as well as specialist fleet such as street sweepers and cage tippers. As well as being better for the environment, electric vehicles are cheaper to run financially too, saving the council thousands of pounds in running costs each year.
Based at the council's Eastcroft depot in the city centre, the centre further demonstrates the council's commitment to encouraging and supporting the uptake of electric vehicles.
About Intelligent Transport
Serving the transport industry for more than 15 years, Intelligent Transport (formerly Eurotransport) is the leading source for information in the urban public transport sector. Covering all the new technologies and developments within this vitally important sector, Intelligent Transport provides high-quality analysis across our core topics: Smart Cities, Digitalisation, Intermodality, Ticketing and Payments, Safety and Security, The Passenger, The Fleet, Business Models and Regulation and Legislation. With articles from across the globe, we explore how and why industry decision makers operate the way they do, and examine how technology is changing the dynamics of transport.