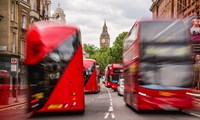 Unite the Union, which represents over 80,000 public transport workers in the UK, has called on the government to intervene immediately to prevent overcrowding on London's buses.
The union reportedly received reports of busy London buses the day after the Prime Minister, Boris Johnson, informed the nation that people could return to work if they cannot work from home as the country begins to ease its coronavirus lockdown restrictions.
Unite stated that the government must act to ensure safety; it has called for clear rules to be provided on the maximum capacity of buses, and for the government to also provide a method of enforcing them.
Unite has also advised its members that if overcrowding becomes too dangerous they should stop work immediately and remove themselves from the danger.
Unite Regional Officer for London buses, John Murphy, said: "Pictures of overcrowded buses are frightening and action must be taken immediately."
"The government is on the one hand telling people to go back to work but on the other failing to provide the means for them to get there safely."
"Overcrowding can only be resolved by the government providing additional funding to run more buses during peak hours and introducing strict rules on policing the number of passengers on each bus."
"To greatly reduce the dangers of transmission of COVID-19 the wearing of face masks must become mandatory; merely advising passengers to wear them is simply not clear enough."
"Policing overcrowding cannot and will not be the responsibility of the driver."
"During the pandemic at least 30 bus workers have lost their lives in London. Huge efforts have been made to protect the workforce and Unite will not allow that to be compromised."
"We have advised members of their right to withdraw from serious and imminent danger in line with the legal protections that exist, and that where they are forced to do so they will receive Unite's full support."
About Intelligent Transport
Serving the transport industry for more than 15 years, Intelligent Transport is the leading source for information in the urban public transport sector. Covering all the new technologies and developments within this vitally important sector, Intelligent Transport provides high-quality analysis across our core topics: Smart Cities, Digitalisation, Intermodality, Ticketing and Payments, Safety and Security, The Passenger, The Fleet, Business Models and Regulation and Legislation.