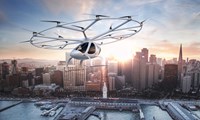 Volocopter and DB Schenker, a logistics provider, have announced an investment into urban air mobility (UAM) as Volocopter extends its Series C funding to a total of €87 million. The funding will go towards the certification of the VoloCity, hiring more industry experts, and a second generation VoloDrone, to ensure commercialisation of the heavy-lift cargo drone product.
Volocopter is developing autonomous electrical Vertical Take-Off and Landing (eVTOL) aircraft to offer air taxi services in the megacities pf the world as an addition to existing transport options. Just recently the company performed a public flight over Marina Bay Reservoir in Singapore demonstrating the maturity of its technology.
"We are convinced that the Volocopter technology has the potential to bring transport logistics to the next dimension for our customers", said Jochen Thewes, CEO of DB Schenker. "DB Schenker has already tested autonomous and electrical vehicles in several innovation projects and in actual operations. By integrating the VoloDrone into our supply chain of the future we will be able to serve our clients' demand for fast, remote, emission-neutral deliveries. We are thrilled to now be part of this drive for innovation in a fantastic team."
"The new shareholder structure strengthens our global network of strategic and financial partners significantly. Bringing urban air mobility to life for passengers and goods is a great ambition and with our new partners we bring the expertise and necessary long-term funds on board to make this innovative form of mobility a reality," said Florian Reuter, CEO of Volocopter.
About Intelligent Transport
Serving the transport industry for more than 15 years, Intelligent Transport is the leading source for information in the urban public transport sector. Covering all the new technologies and developments within this vitally important sector, Intelligent Transport provides high-quality analysis across our core topics: Smart Cities, Digitalisation, Intermodality, Ticketing and Payments, Safety and Security, The Passenger, The Fleet, Business Models and Regulation and Legislation.