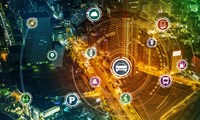 The World Business Council for Sustainable Development (WBCSD) has signed a letter of voluntary contribution with the International Transport Forum (ITF) to facilitate the co-production of a case-specific policy analysis study that will map emerging trends across transport modes and help navigate the new mobility landscape.
ITF is a global body for dialogue on transport policy, and as an intergovernmental organisation with 60 member countries, it organises the largest annual summit for transport ministers. WBCSD is a CEO-led organisation of 200 businesses "working to accelerate the transition to a sustainable world".
The collaboration aims to investigate the latest research and best practice on Mobility-as-a-Service (MaaS), as well as formulate policy recommendations for its implementation towards more sustainable mobility in cities.
It also aims to set off a vital cross-sectoral dialogue around the prospect of connected, automated, shared and electric mobility, helping companies to find pathways to sustainability and support the development of innovative business models and strategies.
WBCSD member companies Daimler, Honda, Pirelli, Renault-Nissan-Mitsubishi, Toyota and Volkswagen have already confirmed their participation in the project. WBCSD has encouraged all companies with an interest in sustainable transport to become part of project.
About Intelligent Transport
Serving the transport industry for more than 15 years, Intelligent Transport is the leading source for information in the urban public transport sector. Covering all the new technologies and developments within this vitally important sector, Intelligent Transport provides high-quality analysis across our core topics: Smart Cities, Digitalisation, Intermodality, Ticketing and Payments, Safety and Security, The Passenger, The Fleet, Business Models and Regulation and Legislation.