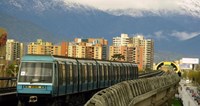 The CIVITAS Initiative, which works to promote and support cleaner and better transport in cities, launched the fourth and final call to its Activity Fund on 1 October. The Activity Fund co-finances projects which involve the transfer of successful measures from 'pioneer' cities to 'take-up' cities. Applications to the fourth call, which offers €80,000 in co-financing, should relate to one of the 10 CIVITAS Thematic Categories, as well as a series of proven CIVITAS Tools. The call closes on 20 November 2015.
Previous projects which received co-funding from the Activity Fund include an initiative to reduce speeds near schools in Nikšić (Montenegro), a study proving the case for introducing bike-sharing in the Hungarian city of Szentendre, and a campaign to encourage students and young people to use the metro in Lisbon (Portugal), winners of the Y4PT Youth Award at the 61st UITP World Congress & Exhibition 2015 in Milan.
Applications may be submitted individually or jointly by organisations that have not already been involved in projects funded by the CIVITAS Initiative. Organisations applying for funding need to be established in an EU Member State or Albania, the Former Yugoslav Republic of Macedonia, Iceland, Israel, Kosovo, Montenegro, Norway, Serbia, Switzerland or Turkey. The call will be open for seven weeks, with an application deadline of 20 November.
Additionally, the CIVITAS Learning Centre recently released four new e-courses on bike-sharing, public involvement, traffic and mobility fundamentals, and mobility management. The Learning Centre will also organise in-person trainings until August 2016 on an ongoing basis. Finally, the Learning Centre runs the CIVITAS placement programme, where municipal mobility staff can learn from their colleagues in a number of leading CIVITAS cities. A detailed overview of all current and forthcoming training opportunities is available for download.
UITP are project partners of CIVITAS CAPITAL.
About UITP
As a passionate champion of sustainable urban mobility, UITP is internationally recognised for its work in advancing the development of this critical policy agenda. UITP has a long history to its name, and is the only worldwide network to bring together all public transport stakeholders and all sustainable transport modes.
Our vision
We are working to enhance quality of life and economic well-being by supporting and promoting sustainable transport in urban areas worldwide.
Our missions
Every day we make a difference for our members and for the wider sustainable transport community.