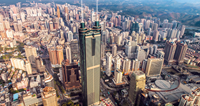 In order to better address the specific needs of its members in Mainland China as well as to expand its membership base, UITP has announced the opening of a liaison office in Shenzhen. With the support of Shenzhen Metro Group Co. Ltd, the main operator in the city and a key player in Chinese public transport, UITP aims to grow its presence and service offering in China.
The Shenzhen office will be tasked with, amongst other things: membership relations and development; the integration of Chinese public transport knowledge with the international public transport community and the development of UITP's activities responding to local needs and expectations.
China has been enjoying strong economic development in recent years, which despite slowing recently, has seen annual GDP growing comfortably above 6% over the last five years.
This economic growth has gone hand in hand with rapid urbanisation and the emergence of the Chinese mega city. According to current estimates, by 2030, 60% of China's population is expected to live in cities, compared to 45% in 2010. The country now has some 40 cities with a population of over one million inhabitants and its five largest cities (Shanghai, Beijing, Guangzhou, Shenzhen and Chongqing) all count more than ten million inhabitants.
China's strong economic development has also posed challenges in terms of mobility and the resultant issues have been well documented. However, significant efforts are being made to address this and there are now more than 20 cities in China that have metro systems, with approximately 3,000km of further metro infrastructure in the pipeline.
China's metro networks are enjoying strong patronage growth: four of the world's top ten busiest metro networks are now to be found in China (Beijing, Shanghai, Guangzhou and Hong Kong), with Beijing alone witnessing a 39% increase in ridership from 2012-2014.
Having a global presence enables UITP to better connect the sustainable mobility sector and promote public transport as a motor for green growth and improved quality of living. While UITP's main office has always been located in Brussels (Belgium), various regional and liaison offices have been created throughout the world during the last 15 years, most recently in Astana (Kazakhstan), New York (USA) and Casablanca (Morocco).
About International Association of Public Transport (UITP)
UITP member companies in North America include some of the region's largest operators in metro (New York, Boston, Washington, Montreal and Toronto) and light rail systems (Phoenix, Salt Lake City, Honolulu, Edmonton and Vancouver). UITP opened its first office in North America in New York City in 2015 to support the growth of urban transit in the region and will hold its flagship event, the Global Public Transport Summit, in Montreal in May 2017. Find out more about UITP's activities in North America.