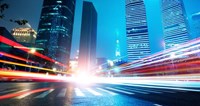 The UITP Awards celebrate the most innovative and sustainable mobility projects around the world that bring the sector closer to reaching the ambitious goal of doubling its market share by 2025.
To be eligible for consideration, projects must have been implemented between 2015 – 2017, and place public transport at the heart of the urban and local mobility system. An international jury comprised of industry experts selected the 24 finalists from over 230 applications, looking to reward ambition, innovation, partnership and transferability to other regions.
Celebrating the next generation of mobility leaders
New among the award categories is the Y4PT Young Leadership Award that recognises public transport trailblazers under the age of 30. The three candidates for this award epitomise innovation and sustainability in the sector: Ulrich Strötz is the Software Team Lead in Door2Door GmbH, and was responsible for implementing the Berlin tech company's successful journey planner app. Saeed Ishaq Mohammad, an engineer at Dubai's Roads and Transport Authority, is Project Manager for the Dubai Bus Rapid Transit Master Plan, and is directly involved with the Urban Mobility Innovation Index. Roman Latypov, First Deputy Head for Strategic Development and Customer Service at Moscow Metro, manages over 5,000 employees and helped to launch the innovative Moscow Central Circle.
Winners will be announced on 17 May during the Summit's Closing ceremony.
Discover the complete list of finalists for the UITP Awards 2017
Public Transport Strategy
CAPE TOWN TRANSPORT AND URBAN DEVELOPMENT AUTHORITY for "Cape Town Transit Oriented Development Strategic Framework"
CHENNAI METRO RAIL LTD for "Chennai Metro Rail"
MOSCOW CITY GOVERNMENT for "Moscow Central Circle"
MÜNCHNER VERKEHRSGESELLSCHAFT for "Bike Sharing System - MVG Rad"
Customer experience
CITY GOVERNMENT OF MUNTINLUPA/ LINGKOD MUNTINLUPA FOUNDATION for "Leading the e-Jeepney Revolution in the Philippines"
METRO ONE OPERATION PVT LTD for "To deliver a world class customer experience reference in India"
MWASALAT OMAN for "Implementation of the Mwasalat Long Term Bus Transport Master Plan"
RATP DEV/ PADAM-OPTIWAYS for "Slide Bristol"
Operational and Technological Excellence
METRO DE SANTIAGO for "Using smart cards & big-data for public transport planning"
ÜSTRA HANNOVER/ VGF FRANKFURT for "Driver Assistance Systems (DAS) for Trams – How systems work and deliver safer LRT"
VASTTRAFIK AB/ VOLVO for "ElectriCity"
VIA QUATRO for "Carriage Occupancy Announcement System"
Smart financing and Business models
ADDAX/ EMTU-SP for "PPP -Baixada Santista- Bus and LRT Integrated System" MTA NEW YORK CITY TRANSIT for "MTA Green Bonds"
SA TAXI FINANCE for "Unique vertical integration enabling the financing of local minibus taxi entrepreneurs"
Small cities and low density areas
KAYSERI ULASIM for "Transport for Rural Areas"
NORDJYLLANDS TRAFIKSELSKAB for "Around your world" RIDANGO/NUUP BUSII for "Nuuk Automated Fare Collection Project"
Design
NETWORK RAIL/ ATKINS/ MACE for "Birmingham Gateway Project"
NIKKEN SEKKEI for "Station Integrated Redevelopment: Kyobashi Edogrand" SNCF RÉSEAU/ SNCF Architecture Division & AREP for "Rosa Parks Station"
Y4PT Young Leadership
Ulrich Strötz, Software Team Lead, DOOR2DOOR GMBH
Saeed Ishaq Mohammad, Engineer, ROADS AND TRANSPORT AUTHORITY
Roman Latypov, First Deputy Head for Strategic Development and Customer Service, MOSCOW METRO
About The International Association of Public Transport (UITP)
The International Association of Public Transport (UITP) is a passionate champion of sustainable urban mobility and is the only worldwide network to bring together all public transport stakeholders and all sustainable transport modes. We have 1,400 member companies giving access to 18,000 contacts from 96 countries. Our members are public transport authorities and operators, policy decision-makers, research institutes and the public transport supply and service industry.