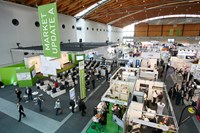 To help advance the sector during these challenging times, UITP and Messe Karlsruhe will be running a series of regular E-Market Update Webinars with leading industry suppliers creating innovative solutions. All of which you'll be able to meet this December at IT-TRANS.

In this first webinar of the series, we will discuss some of the latest innovative tools and solutions for optimising public transport resources during the current crisis.
Our Guest Presenters:
Opening words by Mohamed Mezghani, Secretary General, UITP and Britta Wirtz, Managing Director, Messe Karlsruhe

- Avoid passenger crowds for a safe and comfortable public transport experience
Georg König, Key Account Manager, INIT GmbH

- Ensure mobility in times of the Coronavirus COVID-19
Udo Steinmeier, Head of Division New Mobility, Trapeze Group Deutschland GmbH

- Reviving the suburbs - How on-demand ride-pooling can enhance the attractiveness and efficiency of public transit offerings outside the urban core in times of COVID-19
Ulrich Edelmann, Chief Strategy Officer und Head of On-Demand, Moovel Group GmbH
You'll have the opportunity to get your burning questions answered by the presenters.

Join us on 12 May at 13:00 CET. Register online to get access, and stay up-to-date before IT-TRANS.

The 2020 edition of IT-TRANS will be held from 1-3 December. Initially postponed from 3-5 March due to developments with the coronavirus, the new date will see the largest event of its kind dedicated to digitalisation in public transport take place at the same venue, the Karlsruhe Trade Fair Centre.
About UITP
UITP (Union Internationale des Transports Publics) is the International Association of Public Transport and a passionate champion of sustainable urban mobility. It is the only worldwide network to bring together all public transport stakeholders and all sustainable transport modes. We are working to enhance quality of life and economic well-being by supporting and promoting sustainable transport in urban areas worldwide.