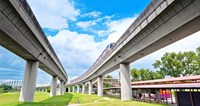 From 7 to 8 July in Bari, Italy, Associazione Trasporti (ASSTRA), the national public transport association in Italy, in collaboration with UITP, will host a conference on the many-sided topic of public transport rates.
The two-day conference will cover many topics, including a comparison of international case studies and a presentation of the different approaches to a defined range of issues of fare such as regulation and fare adjustments, and fare integration at the city level.
The application and comparison of fares is a key topic in the public transport sector. UITP's position illustrates the importance of fares reflecting the level of service requied by customers, as passengers will tend to judge public transport systems by quality, rather than lower fares.
A key element, which the UITP will introduce at the conference, looks at the complexity of comparing public transport systems through coverage rates. Last May, the UITP Transport Economics Commission published a report analysing the inherent differences among eight international coverage rate definitions.
Coverage rate is generally defined as the ratio of revenues to costs, with each definition accounting differently among the nine identified variables. Often seen as a performance indicator of public transport operators, it is also a sign of a city's public transport political choices – including, the choice of fare level and network and timetable coverage.
The recently published paper specifically brings to light how, depending on the coverage rate method used, there can be a variance in calculated ratio between 42.9% and 64.7% for the same operator.
Among the examples selected in this report, one interesting result highlights the expected negative impact on European coverage rate. This will be particularly due to a change in the European Standard Accounts from ESA95 to it updated version ESA2010.
UITP hopes to provide valuable insight at this international event on fares which will gather public transport policy and decision makers, as well as a word of caution when seeking to compare different public transport systems.
About International Association of Public Transport (UITP)
UITP member companies in North America include some of the region's largest operators in metro (New York, Boston, Washington, Montreal and Toronto) and light rail systems (Phoenix, Salt Lake City, Honolulu, Edmonton and Vancouver). UITP opened its first office in North America in New York City in 2015 to support the growth of urban transit in the region and will hold its flagship event, the Global Public Transport Summit, in Montreal in May 2017. Find out more about UITP's activities in North America.