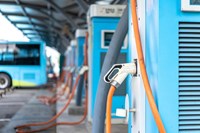 One of the key factors for achieving climate protection targets is having a strong public transport system. As well as generally expanding public transport, it is of crucial importance to switch to emission-free modes of transport such as in bus fleets. In its Clean Vehicles Directive, the EU therefore requires public authorities to purchase a minimum quota of clean buses. This means that, as of 2021, at least 45 percent of buses must use alternative drives or run on natural gas or synthetic fuels. This quota will be increased to 65 percent as of 2026.
Using buses with electric drives rather than conventional combustion engines would reduce noise pollution as well as cutting down substantially on emissions that are harmful for the climate and human health. As Martin Schmitz, Technical Director of the Association of German Transport Companies (VDV), which has more than 600 member companies from the public passenger and rail freight transport sector, explains: "Around 315 electric buses are currently being used in Germany, with a further 750 on order. However, the difficulties involved in supplying power to depots and getting approval for building charging infrastructure in densely built-up urban areas are continuing to hamper the switch to e-mobility. After all, as well as the vehicles themselves, it is primarily a question of infrastructure and new operational processes."
Range calculation takes into account weather conditions, traffic jams and route characteristics
Swiss company Trapeze is showcasing special solutions for e-bus fleets at IT-TRANS. The Trapeze Smart Monitor allows the vehicle status to be monitored. The system provides real-time information on all the available vehicle data such as battery charge level and possible range in hours or kilometers. The technical status of the vehicle is also recorded automatically and communicated to control room and workshop. The ongoing range calculation additionally takes into account factors influencing energy consumption such as weather conditions, uphill and downhill sections and repeated stopping and starting on account of traffic jams and diversions. In this way, the smart software solution simplifies operational processes, making it possible to plan vehicle deployment more efficiently, to exclude range risks and also to reduce operating costs by optimizing workshop processes and maintenance.
New at IT-TRANS: Control center simulates e-bus route planning
The Future Mobility Lab is a new feature at IT-TRANS 2020. Among other things, a control room will be set up to simulate how electric and autonomous vehicles are integrated into a transport system that also features vehicles with drivers. The control center will be set up by the Swiss exhibitors Trapeze. The software for the integrating the self-driving vehicles in the control system is being supplied by its subsidiary AmoTech. "We will be using the control center to show you the challenges involved in managing a complex transport system. If vehicles with drivers are en route at the same time as self-driving vehicles it is important, for example, to decide – with support from the software – which bus will reach a particular stop first. In the case of driverless vehicles, information is needed as to how passengers get their tickets, how many passengers are in the vehicle and whether they are all ok", explains Matthias Keller, Director Corporate and Marketing Communications, Trapeze Switzerland GmbH. Visitors to IT-TRANS can observe the various vehicles on the monitors in the control center, watch the dispatchers at work and ask them questions. One of the vehicles in the traffic management system at the control center is a self-driving minibus from the manufacturer easymile which AmoTech will demonstrate live on a demonstration route.
Find the full article here.
About UITP
UITP (Union Internationale des Transports Publics) is the International Association of Public Transport and a passionate champion of sustainable urban mobility. It is the only worldwide network to bring together all public transport stakeholders and all sustainable transport modes. We are working to enhance quality of life and economic well-being by supporting and promoting sustainable transport in urban areas worldwide.