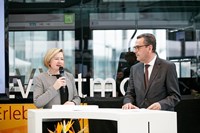 UITP and Messe Karlsruhe are pleased to announce that the 2020 edition of IT-TRANS will be held from 1-3 December in Karlsruhe, Germany.
Initially postponed from 3-5 March due to developments with the coronavirus, the new date will see the largest event of its kind dedicated to digitalisation in public transport take place at the same venue, the Karlsruhe Trade Fair Centre. UITP and Messe Karlsruhe are now moving forward towards the new date and ready to welcome the world of urban mobility to Karlsruhe in December.
The Taxi & Ride-Hailing Conference and Exhibition, also postponed in February, will remain as a parallel event to IT-TRANS and is confirmed for December.
"We're delighted to have set the new date for the 2020 edition of IT-TRANS, where we look forward to welcoming our exhibitors, conference delegates and all participants and visitors to Karlsruhe. The initial decision to postpone was the correct one and we'd like to thank everyone involved for their hard work and diligence in finalising the details for the December date. We thank you for your patience and understanding." said Mohamed Mezghani, Secretary General of UITP and Britta Wirtz, Managing Director of Messe Karlsruhe.
About UITP
UITP (Union Internationale des Transports Publics) is the International Association of Public Transport and a passionate champion of sustainable urban mobility. It is the only worldwide network to bring together all public transport stakeholders and all sustainable transport modes. We are working to enhance quality of life and economic well-being by supporting and promoting sustainable transport in urban areas worldwide.