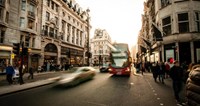 Electrification in public transport is not a new phenomenon. Metro, trams and trolleybuses operate in numerous cities, there is also a growing uptake of electric and hybrid buses. Electromobility appears to be an effective weapon to fight climate change, but, especially the new modes, still raise many questions.
On the final day of the CIVITAS Forum 2015 (7-9 October) in Ljubljana, experts and electromobility professionals met to discuss how to achieve significant decarbonisation of our cities through electrification of urban mobility. UITP participated in this event represented by Umberto Guida, Deputy Director of the European Department and EU Projects Director.
The discussion was opened by Violetta Bulc, European Commissioner for Transport: "It is high time we started thinking more about people than about vehicles. We need to give the cities back to citizens and make sure they are liveable." Maroš Šefčovič, Vice President Energy Union with Climate change, referred to this thought also during the closing session: "Electrification of urban mobility can significantly improve quality of life in cities. Decarbonisation will be the main topic of an official communication of the European Commission planned for summer 2016."
UITP stressed the fact that introducing e-cars will solve the problem of pollution, but not congestion. European cities should shift towards clean mass transit systems and shared mobility services that will provide better results in terms of space management and energy efficiency.
UITP also pointed out what needs to be done to achieve significant decarbonisation in cities through electrification of urban mobility: "Electrification requires the integration of different mayor urban systems, mainly electricity and transport. Its complexity is often the first cause of delays and difficulties in the introduction of electromobility. It is necessary that tools, processes are put in place at all levels (technical, economic, political) to facilitate such coordination. IT can help, of course, but it will not solve all the issues as some aspects are linked to the legal frame of the energy provision."
Umberto Guida also emphasised the importance of adopting a system approach and involving all the actors in the process of electrification. Only once relations between mobility providers and energy providers are settle in an efficient way, electrification can be successful.
UITP is actively involved in the electromobility aspects. Since November 2013, UITP coordinates the flagship EU-funded research project ZeEUS, aiming at testing electrification solutions at the heart of the urban bus system. Recently, UITP also participates in the ELIPTIC project focused on electrification of public transport in cities.
About UITP
As a passionate champion of sustainable urban mobility, UITP is internationally recognised for its work in advancing the development of this critical policy agenda. UITP has a long history to its name, and is the only worldwide network to bring together all public transport stakeholders and all sustainable transport modes.
Our vision
We are working to enhance quality of life and economic well-being by supporting and promoting sustainable transport in urban areas worldwide.
Our missions
Every day we make a difference for our members and for the wider sustainable transport community.