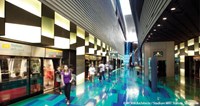 The latest issue of Public Transport International puts the spotlight on the integral role design plays in the overall mobility sector.
The main theme of the latest issue of Public Transport International focuses on how good design enables the efficient functioning of the whole urban mobility concept, while also providing much added value through aesthetics.
Key examples include: how well designed, travel information can improve passenger flow in a busy public transport station, and how the intentional placement of transport infrastructure, like bike-share facilities, encourages better integrated, multimodal mobility.
Additionally, the magazine also touches on topics such as the advantages active mobility has on overall health, and gives an early glance at next year's not-to-miss international public transport event.
UITP members and subscribers will receive the magazine in the next days. In the meantime, we're giving you a sneak-peek with the two free articles below. The articles are also available in French, German and Spanish.
About International Association of Public Transport (UITP)
UITP member companies in North America include some of the region's largest operators in metro (New York, Boston, Washington, Montreal and Toronto) and light rail systems (Phoenix, Salt Lake City, Honolulu, Edmonton and Vancouver). UITP opened its first office in North America in New York City in 2015 to support the growth of urban transit in the region and will hold its flagship event, the Global Public Transport Summit, in Montreal in May 2017. Find out more about UITP's activities in North America.