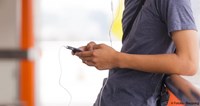 The concept of using technology to move away from private car use towards a choice of integrated transport options, is steadily gaining hold among public transport innovators and passengers.
Just this past April, the Turkey-based technology company, kentkart, won an award for its contactless ticketing solution, during the 2016 Contactless & Mobile Awards in London. The company's mobile application allows customers to easily buy and validate tickets on a number of public transport systems throughout Turkey and Serbia. In addition to providing interoperability of mobility services between different cities, the application also allows passengers to use their mobile phone as a ticket, by taking advantage of contactless, or Near Field Communication (NFC) technology. This service marks one of the latest developments in simplifying the use of multiple, existing public transport services through the use of the latest technologies.
Other examples include the world's first Mobility as a Service company, MaaS Finland, which in early 2016 launched a viable alternative to private car ownership. Users of the monthly subscription service can plan and pay for one or a combination of different existing transport services using a special mobile phone application.
And in February of this year, the very first, fully operation example of MaaS was launched in Hanover, Germany, with the 'Mobility Shop' service from üstra and GVH (Greater Hanover Transport Association). The Hanover service lets users book anything from public transport tickets to taxi rides on a mobile application, while also checking travel-times in real time.
"Combined mobility – meaning offering integrated mobility services with public transport as a backbone complemented by other modes such as car-sharing, bike-sharing, taxis, cycling and on demand services – is the only mobility solution able to compete with the private car in terms of flexibility, convenience and cost-structure," said Caroline Cerfontaine, UITP Combined Mobility expert.
Learn more about combined mobility in UITP's position paper, 'Becoming a real mobility provider – Combined Mobility: public transport in synergy with other modes like car-sharing, taxi and cycling'.
About International Association of Public Transport (UITP)
The International Association of Public Transport (UITP) is a passionate champion of sustainable urban mobility and is the only worldwide network to bring together all public transport stakeholders and all sustainable transport modes. We have 1,400 member companies giving access to 16,000 contacts from 96 countries. Our members are public transport authorities and operators, policy decision-makers, research institutes and the public transport supply and service industry.
UITP member companies in North America include some of the region's largest operators in metro (New York, Boston, Washington, Montreal and Toronto) and light rail systems (Phoenix, Salt Lake City, Honolulu, Edmonton and Vancouver). UITP opened its first office in North America in New York City in 2015 to support the growth of urban transit in the region and will hold its flagship event, the Global Public Transport Summit, in Montreal in May 2017. Find out more about UITP's activities in North America.