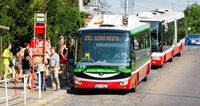 Prague joins the growing circle of cities wishing to exchange together on the ways to introduce high capacity electric buses in their network. Among them, we already count Bascharage (LU), Cologne (DE), Copenhagen (DK), Donostia San Sebastian (ES), Hertogenbosch (NL) and Sofia (BG).
The ZeEUS Observatory provides a platform for meaningful exchanges practitioners on the economic, social, environmental and operational feasibility among the bus. A data collection launched in July 2015 allows the collaboration of the project with other electric experiences in order to present a global picture of the electric bus market in Europe.
DP Prague has launched a test of a fully electric bus SOR/Cegelec EBN 11 as an important initiative towards the objective of reducing bus service emissions. The bus will be charged overnight at the depot as well as during the operation. The latter is performed via a two-pole pantograph on the roof. The charging section is supplied from an adjacent section of the tram network. Data from the operation of the fully electric bus will serve the ZeEUS project, supporting the analysis of electromobility in European public transport.
About UITP
As a passionate champion of sustainable urban mobility, UITP is internationally recognised for its work in advancing the development of this critical policy agenda. UITP has a long history to its name, and is the only worldwide network to bring together all public transport stakeholders and all sustainable transport modes.
Our vision
We are working to enhance quality of life and economic well-being by supporting and promoting sustainable transport in urban areas worldwide.
Our missions
Every day we make a difference for our members and for the wider sustainable transport community.