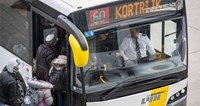 The delivery and quality of urban public transport plays a significant role in supporting local and regional economic development, the environment, employment opportunities and social inclusion.
In many European cities public transport operators provide significant local employment. Regulations regarding the provision and award of such services can therefore potentially impact on all these factors.
In the context of evolving market conditions, the social partners - UITP and ETF (European Transport Workers' Federation) – decided to commission a study to examine the market organisation of the sector and the legal framework underpinning it, as well as the employment and working conditions and the role of collective bargaining within this.
The study, undertaken by consultancy firm ICF, sought to chart how European social conditions have evolved over the past ten years, with a particular focus on Austria, Bulgaria, Belgium, Czech Republic, Germany, Finland, France, the Netherlands, Ireland, Italy, Sweden and the UK. The social partners particularly wished to study the impact of European Regulation 1370/2007 in requiring contract bidders to meet certain social quality criteria/standards and/or requiring a transfer of staff in case of change of operator as well as the potential effect on employment security and working conditions in the sector.
Key trends identified:
Award processes
The study revealed that competitive tendering has become more widespread in Europe, driven by national legal frameworks and economic/political motivations. However, significant differences remain: in Belgium, Luxembourg, Ireland and Greece, all urban bus services are directly awarded. In all other countries, direct award and tendering exist although the latter is in practice marginal in more than ten Member States. While PSO Regulation 1370/2007 does not require the use of tendering, it has provided an impetus contributing to restructuring in the sector in many countries. In general, integrated networks are more likely to be directly awarded to an internal operator whereas bus services, particularly in smaller towns, are more likely to be tendered.
Market organisation
Urban public transport is still characterised by a high number of internal operators but the increasing use of tendering has seen the emergence of a number of international players. This is the case for a number of French companies, such as Keolis, Transdev and RATP Dev. Other important European operators include Arriva DB, National Express, Nobina and Abellio amongst others. However, international companies, only have a significant share in seven Member States, primarily those that mostly use tendering. Overall, the study reveals that the number (or role) of internal operators has declined over the past ten years.
Employment
Employment data for urban public transport alone is difficult to obtain as national statistics mostly also cover rail, coach (long-distance) and inter-urban transport. In Sweden and France an overall increase of staff has been noted, largely due to an increase in the number of drivers. In Finland and the Netherlands, employment has remained stable with a slight increase in the number of drivers. In Germany, Italy and Ireland employee numbers have declined slightly. The sector is largely male dominated and the share of female workers is 8-18% among operators studied.
Setting employment and social conditions
Legislation plays a significant role in setting a minimum baseline for employment and social conditions in the urban public transport sector. In addition, such legislation is mostly enhanced through collective agreements negotiated at the national sectoral, regional or company level. The level and content of collective bargaining is of particular importance in the context of competitive tendering, as it has the potential of setting a floor of rights to be respected by all companies in the sector. Also, the PSO Regulations include the possibility of using additional social quality criteria/standards in tendering. However, it seems that this possibility is not used very often by competent authorities.
The study does not provide a conclusive picture regarding the impact of different forms of award on employment conditions and stability or indeed the quality of services delivered, as factors such as the availability of public budgets to invest in infrastructure and services or the regulatory and collective bargaining framework are multi-faceted and interlinked.
The study noted, however, that public budgets' reduced capacity to invest in infrastructure and services and the political/economic drive for higher cost-efficiency and effectiveness had an adverse impact on working conditions in both awarding regimes, direct award and competitive tendering.
Based on specific case study examples on good practices in ensuring employment security, social standards and service quality, the study's conclusions served to highlight the advantages as well as the pitfalls of different award regimes in the context of evolving market conditions.
The results of the project were presented at the final conference of the project in Brussels on 31 May. The complete study will be available publically soon.
About International Association of Public Transport (UITP)
UITP member companies in North America include some of the region's largest operators in metro (New York, Boston, Washington, Montreal and Toronto) and light rail systems (Phoenix, Salt Lake City, Honolulu, Edmonton and Vancouver). UITP opened its first office in North America in New York City in 2015 to support the growth of urban transit in the region and will hold its flagship event, the Global Public Transport Summit, in Montreal in May 2017. Find out more about UITP's activities in North America.