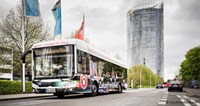 Have you ever wondered why the take-up of electric buses has been so slow? Well, it's partly to do with the charging infrastructure.
Charging facilities can usually be easily introduced to depots, but installing them at termini or at roadside locations has so far been fraught with difficulty. As well as providing the required power capacity to the site, there are usually countless approvals and clearances needed for the design and construction process.
Whilst the car industry has recognised the importance of working towards a standard (or even a single system) for charging infrastructure, this is still lacking within the electric bus industry. As a result, UITP's bus operating members have had to employ tailored charging facilities for each brand of electric bus being tested.
The public transport industry must now develop a common standard lest it repeats the mistakes of 19th century rail networks with their different rail gauges or the mountains of now redundant smartphone chargers before their recent standardisation.
As conductive charging systems increasingly emerge on the market, work to standardise the interface to the charging infrastructure is becoming a matter of urgency.
The potential benefits of this standardisation are manifold, primarily the economic benefits to operators thanks to ability to charge buses from different manufacturers and boosting the resale value of vehicles. This will help to inspire confidence in the technology and boost further market take-up.
The next step to standardising
In this context, UITP's Bus and Industry Committees have begun the preparatory standardisation work by providing use case documents for 'opportunity charging' and 'charging in depots' together with VDV and ZeEUS.
UITP has played a pioneering role in initiating discussions on this topic, bringing the industry together and gauging the results of it in the appropriate channels (CEN/CENELEC – the European Committee for Standardisation and the European Committee for Electrotechnical Standardisation).
The European Commission has stated its intent to have a standard for conductive charging in place for 2019 and it is now hoped that a European industry standard is one step closer.
Committing to electric
Electric bus technology is still undeveloped compared to a century of diesel bus development. Market take-up will therefore depend on the speed and quality of the progress made in the electric bus building and battery technology sectors in the coming years.
For UITP's Bus Committee, what is needed on the market is a variety of models (articulated, double-deckers) to suit all operators' needs. Added to this, quality, performance and drivability which matches that of diesel buses; improved battery life; a reduction in initial capital costs and a battery recycling or disposal plan.
In the coming years, governments at all levels need to demonstrate a commitment to electric bus technology and implement clear policies and guidelines to facilitate the provision of the required infrastructure. In the absence of such policies, electric bus take-up will not occur or will remain very limited.
About International Association of Public Transport (UITP)
UITP member companies in North America include some of the region's largest operators in metro (New York, Boston, Washington, Montreal and Toronto) and light rail systems (Phoenix, Salt Lake City, Honolulu, Edmonton and Vancouver). UITP opened its first office in North America in New York City in 2015 to support the growth of urban transit in the region and will hold its flagship event, the Global Public Transport Summit, in Montreal in May 2017. Find out more about UITP's activities in North America.