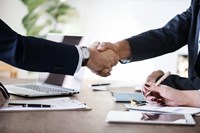 UITP and The New Cities Foundation are pleased to announce a partnership agreement to advance urban mobility and develop mutual interests.
The two-year agreement shows the joint dedication of UITP and New Cities to improving the lives of residents of our cities by shaping a better urban future for all.
This partnership agreement will further advance those objectives by collaborating at mutual periods of interest and involvement in major global events such as The New Cities Summit, LaCoMotion and the UITP Global Public Transport Summit.
"We are happy and honoured to welcome back our UITP friends for this year's edition of LA CoMotion. UITP is truly driving the conversation around more sustainable, connected and mobile cities. We look forward to very stimulating exchanges on the future of public transportation with UITP and other key players of the urban mobility revolution," said John Rossant, Founder and Chairman, New Cities.
Foundation UITP will be an official partner at the 2018 edition of LaCoMotion, alongside UITP members such as LA Metro and Transdev.
"I echo the kind thoughts of John Rossant by confirming UITP's pleasure in making this partnership. For UITP to continue to be recognised as a global leader in advancing urban mobility, we must work alongside our members and important bodies such as the New Cities Foundation. I look forward to spirited exchanges on the future of public transport during this year's edition of LaCoMotion," sadi Mohamed Mezghani, UITP Secretary General.
ABOUT UITP
As a passionate champion of sustainable urban mobility, UITP is internationally recognised for its work to advance the development of this critical policy agenda. UITP has a long history to its name, and is the only worldwide network to bring together all public transport stakeholders and all sustainable transport modes.