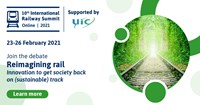 On the 22nd to the 26th of February of this year, the 10th International Railway Summit was held online, supported by the International Union of Railways (UIC). First held in 2013 in Berlin, this was the first time the summit had been held online. Over the years, other locations included Paris, Frankfurt, Barcelona, Vienna, Warsaw, Prague, New Delhi and Kuala Lumpur.
In the current edition, 77 speakers participated, on the overall theme of the online edition being "Reimagining rail: innovation to get society back on (sustainable) track". Some of these world-class speakers included:
Michael Peter, CEO of Siemens Mobility,
Silvia Roldán of, CEO of Madrid Metro,
Elisabeth Werner, Director Land Transport of European Commission,
Monika Heiming, Executive Direction of European Rail Infrastructure Managers (EIM),
And more.
The IRS10 conference looked at 3 main themes, namely recovery from COVID, sustainable mobility, and digital innovation. It also heard from beyond the rail sector. Other speakers included those from the fields of aviation (IATA), bus and public transport (FlixBus, UITP etc.), environmental campaigners, and from politics.
There was agreement amongst the speakers on that it's imperative to recover after COVID for good of society as well as for rail itself, with the possibility of vaccine passports. They also agreed that rail can lead the drive to sustainable travel and the need to shift passengers and freight to rail must continue to innovate in this direction. Additionally, there is a greater need for collaboration within rail and different modes, including ticketing and shared mobility options.
Michael Peter, CEO of Siemens Mobility said: "We need to make every mode of transport cleaner" (as moving all passengers and freight to rail is not possible)."
Adina Vălean, Commissioner for Transport of the European Commission said: "The challenge for me this year is to see rail become the driving force it once was. This traditional transport mode, enabler of the industrial revolution, could now play a central role in yet another fundamental transformation: one that will lead us to a sustainable, emission-free transport system. Rail is one unsung hero of clean, efficient transport and our objectives, as outlined in our strategy, are to increase rail freight by 50% and to double high-speed rail by 2030."

About International Railway Summit

As train travel develops at a rapid rate, and in an uncertain economic and political climate, it is becoming more and more important for rail businesses to have a competitive supply chain in order to remain resilient. International Railway Summit enables delegates to network with peers from across the world and across the supply chain, to exchange ideas, build contacts and create strong business partnerships. Senior decision makers from the world's key rail operators, transport authorities and expert solution providers meet at International Railway Summit.