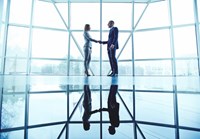 Alexander Dobrindt, Germany's Federal Minister of Transport and Digital Infrastructure, and Young Tae Kim, Secretary-General of the International Transport Forum (ITF), signed an agreement on German government funding for the ITF Annual Summit on Thursday, 14 September, in the margins of the Frankfurt Motor Show.
Under the agreement, the German government will contribute EUR 1.2 Million to the cost of holding the Summit. The event will continue to be held in Leipzig, which was recently reselected as the Summit venue as a result of a regularly held competitive tender. The city in eastern Germany has hosted the Summit since 2008, when it was first held.
"Germany has been hosting the world's leading transport policy event for a decade now. Hand in hand with Germany and our other member country partners, the ITF has developed the Leipzig Summit into a global brand, a must-attend occasion and the world's premier transport policy event", said Secretary-General Kim.
"I am very pleased that the government of Germany will continue their support over the next three years. Renewing this valuable partnership will allow us to further develop the Summit and enable the event to continue to innovate, grow and continue to attract participants from around the globe", Kim added.
The Summit is the world's largest gathering of transport ministers. Organised by the International Transport Forum at the OECD, it is attended by CEOs, heads of International Organisations and academics and has been called the "Davos of Transport".
The 2018 Summit on "Transport Safety and Security" will take place from 23 to 25 May 2018 at the Conference Centre Leipzig (CCL) in Leipzig, Germany.
About International Transport Forum
The International Transport Forum at the OECD is an intergovernmental organisation with 57 member countries. It acts as a think tank for transport policy and organises the Annual Summit of transport ministers. ITF is the only global body that covers all transport modes. The ITF is administratively integrated with the OECD, yet politically autonomous.