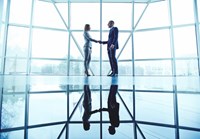 Alstom will participate in policy-related projects on transport infrastructure and services, as well as transport policy-related projects on shared mobility and the decarbonisation of transport, as a member of the International Transport Forum's Corporate Partnership Board, the organisation's platform for collaboration with the private sector.
As a promoter of sustainable mobility, Alstom develops and markets systems, equipment and services for the transport railway sector. Alstom offers a complete range of solutions (from high-speed trains to metros, tramways and e-buses), passenger solutions, customised services (maintenance, modernisation), infrastructure, signalling and digital mobility solutions. Alstom is a world leader in integrated transport systems. The company recorded sales of €7.3 billion and booked €10 billion of orders in the 2016/17 fiscal year. It employs 32 800 people in over 60 countries.
The ITF is an intergovernmental organisation with 57 member countries that facilitates global dialogue for better transport. It acts as a think tank for member governments and organises an annual summit of transport ministers. The CPB is the ITF's platform for engaging with the private sector and enrich global transport policy discussion with a business perspective.
José Viegas, Secretary-General of the ITF, said: "We are delighted to count Alstom as the latest member of our Corporate Partnership Board. A leader in clean and innovative transport services, its experience and commitment will bring a very valuable contribution to the group and to the ITF members as our urban mobility and decarbonising transport projects unfold".
Henri Poupart-Lafarge, Alstom Chairman and CEO, said: "By joining the ITF Corporate Partnership Board, Alstom will be in a unique capacity to share with other companies aligned with our commitment to sustainable mobility and to operational and environmental excellence. Alstom has been actively engaged in the fight against climate change and is looking forward to work with the ITF on its Decarbonising Transport project."
The members of the ITF Corporate Partnership Board include Abertis, AB InBev, Aeromexico, Alstom, Brisa, ExxonMobil, Ford, Google, Here, Incheon International Airport, INRIX, Kapsch TrafficCom, Michelin, North Adriatic Sea Port Authority, NXP, PTV Group, RATP Group, The Renault-Nissan Alliance, SAS, Siemens, SNCF, Total, Toyota, Transdev, Uber, Volvo Cars and Volvo Group.
About International Transport Forum
The International Transport Forum at the OECD is an intergovernmental organisation with 57 member countries. It acts as a think tank for transport policy and organises the Annual Summit of transport ministers. ITF is the only global body that covers all transport modes. The ITF is administratively integrated with the OECD, yet politically autonomous.