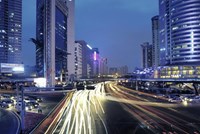 WhereIsMyTransport, an open digital platform that provides information on formally and informally run transport services in emerging cities, is the winner of the 2017 Promising Transport Innovation Award. The award is offered annually by the International Transport Forum, an intergovernmental organisation with 57 member countries.
Launched in August 2016, the WhereIsMyTransport platform supports 20 cities in 10 countries across Africa and the Middle East in providing better information about mobility. Among the cities supported by the platform are Cape Town and Durban in South Africa, Beirut in Lebanon and Accra in Ghana.
WhereIsMyTransport centralises mobility data in a platform that anyone can build upon to provide transport information (e.g. feed digital signage at stops), develop software products (e.g. mobility apps for transport users), or analyse metrics to improve transport provision (e.g. as a tool for city transport planners). The company works with transport operators, cities and governments and with implementation partners such as Microsoft to deliver innovations that make mobility services easier to use for citizens.
Uniquely, WhereIsMyTransport includes informal transport services in addition to official public transport. In Africa, up to an estimated 80% of public transport users rely on informally run transport, and information on routes or travel times is mostly communicated by word-of-mouth. WhereIsMyTransport has calculated that transport uncertainty in South Africa alone has an annual economic cost of USD 104 billon.
Built to accept data in any format and live coordinates from any kind of device, the WhereIsMyTransport platform can integrate data on even the most rudimentary operators. With specially developed tools, WhereIsMyTransport thus mapped the informal transport sector of Cape Town in early 2017 - making it the world's first city to have all its transport, formal and informal, mapped and the data openly available. A hackathon organised in Cape Town challenged software developers to leverage the data for tools that help citizens to simplify their mobility choices. More hackathons are planned in other cities.
Devin de Vries of WhereIsMyTransport, said:
"We believe the future of cities lies in empowering people through information. We're honoured to have received this recognition of the impact of our open platform for integrated public transport data. We're excited to continue working with our partners to use our solutions to make their transport networks more inclusive and accessible."
José Viegas, Secretary-General of ITF and member of the Award jury, said:
"WhereIsMyTransport is a ground-breaking project that shows the way to the 'infostructure' that will drive mobility in the future. Among the many transport-related Big Data projects, it stands out in that it considers informal transport, empowers user choice and encourages developing countries to start thinking about data collection and planning. WhereIsMyTransport has the potential for significant local impacts."
The 2017 Promising Transport Innovation Award will be presented on 1 June during the Annual Summit of the International Transport Forum in Leipzig, Germany, in the presence of ministers from the 57 member countries of the ITF.
Devin de Vries, CEO of WhereIsMyTransport, will be available for interviews in Leipzig.
About International Transport Forum
The International Transport Forum at the OECD is an intergovernmental organisation with 57 member countries. It acts as a think tank for transport policy and organises the Annual Summit of transport ministers. ITF is the only global body that covers all transport modes. The ITF is administratively integrated with the OECD, yet politically autonomous.