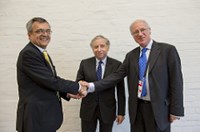 The International Transport Forum has signed four path-breaking cooperation agreements with the World Bank, the Fédération Internationale de l'Automobile (FIA), Eurocontrol and the International Road Assessment Programme (iRAP) during the ITF's 2017 Summit in Leipzig from 31 May to 2 June.
The four agreements relate to the creation of regional networks of road safety observatories; the implementation of transport-related Sustainable Development Goals; the leveraging of aviation data for the decarbonisation of transport and an open data initiative facilitating use of private sector transport data for the public good.
Creating a network of Regional Road Safety Observatories
On 31 May, ITF Secretary-General José Viegas, FIA President Jean Todt and José Luis Irigoyen, Director Transport and ICT Global Practice at the World Bank, signed an agreement to create a network of Regional Road Safety Observatories. Focusing on low- and middle-income countries, these observatories will bring together national officials in charge of road safety with a view to improving the collection of road safety data, benchmarking road safety performance and driving evidence-based policies that reduce road deaths and injuries. The observatories will serve as platforms for knowledge sharing and the dissemination of best practices. They will facilitate collaboration across regions and create transparency necessary to establish a healthy competition among countries to improve road safety conditions.
The three signatories undertake to bring together the key stakeholders, to act as coordinating agents where needed and to offer institutional backing to the establishment of Regional Road Safety Observatories. They will also provide technical expertise, help Observatories identify funding sources and encourage coordination of activities among Observatories.
Implementing transport-related Sustainable Development Goals
On 2 June, ITF Secretary-General José Viegas and Rob McInerney, CEO of the International Road Assessment Programme (iRAP), signed a Memorandum of Understanding on enhanced collaboration in promoting policies that support the achievement of transport-related UN Sustainable Development Goals (SDGs). The five-year agreement focuses on halving road deaths and injuries by 2020 (SDG 3.6); making cities safe and sustainable (SDG 11.2); and unlocking the full potential benefits of investment in transport infrastructure (SDG 9).
Among the areas of co-operation will be the provision of performance tracking tools to support implementation of the SDGs; development of innovative financing partnerships and impact investment initiatives. They also include coordination of the agendas of ITF's Decarbonising Transport initiative and activities to halve road deaths and injuries by 2020. Under the agreement, ITF will be able to use iRAP's knowledge base and data on infrastructure safety to inform ITF research and policy analysis. The data includes, among other measures, crash risk mappings for more than 800 000 km of roads across more than 70 countries.
Leveraging aviation data for the decarbonisation of transport
An agreement on closer co-operation on aviation data to support the ITF Decarbonising Transport project was signed by ITF Secretary-General José Viegas and Frank Brenner, Director-General of Eurocontrol, the intergovernmental organisation in charge of European air traffic management, on 1 June. Both organisations will exchange expertise on forecasting methodologies for air traffic and emissions and share traffic, fuel burn and emissions data and inventories.
Eurocontrol holds a vast amount of aviation-related data from its air traffic management activities across 41 European countries. Applications developed by Eurocontrol experts provide historical air traffic data and emissions inventories as well as traffic and emissions forecasts which will be of great value to the work of ITF and specifically its Decarbonising Transport project. The ITF will support Eurocontrol with its extensive expertise in methodological issues across different transport sectors, with a view to enhancing the Agency's air traffic and emissions forecasting methodologies. The ITF will also independently assess Eurocontrol's work in order to ensure that the data most relevant to the Decarbonising Transport project are as robust as possible.
ITF and Eurocontrol will also co-operate on the integration of fast-developing Remotely Piloted Air Systems (RPAS) into air traffic management.
Using private sector transport data for the public good
During a signing ceremony on 2 June with ITF Secretary-General José Viegas, the World Bank's Lead Transport Economist Nancy Vandycke and Kevin Webb, Director Open Transport Partnership at the World Bank, the International Transport Forum joined the Open Transport Partnership (OTP). The OTP is a global initiative that brings together private and public partners to facilitate responsible use of private sector transport data for the public good. It supports mutually beneficial collaboration on data-driven urban mobility policy and service programs and also develops the guidance and tools to navigate these partnerships.
Combined open data for OTP is generated by more than 12 million drivers in more than 40 countries through private sector partners such as Easy, Grab, Le.Taxi, NDrive, and Miovision, while public sector partners such as the World Bank, America's National Association of City Transportation Officials (NACTO) and the World Resources Institute, provide links to governments around the globe. The OTP's inaugural programme, called "Open Traffic", will be a global open data repository of anonymised traffic statistics generated by its members. Supported by open data mapping platform Mapzen, Open Traffic will empower resource-constrained transport agencies to develop better, evidence-based solutions to traffic and road safety challenges.
About International Transport Forum
The International Transport Forum at the OECD is an intergovernmental organisation with 57 member countries. It acts as a think tank for transport policy and organises the Annual Summit of transport ministers. ITF is the only global body that covers all transport modes. The ITF is administratively integrated with the OECD, yet politically autonomous.