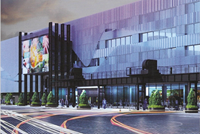 From 15 – 16 November 2018, UIC in cooperation with the Director of the Polish Rail Research Institute IK - Instytut Kolejnictwa and IRRB vice-chairman, dr inż. Andrzej Żurkowski, will organise an international conference about the transportation system of the future and the role of rail as the backbone of a well-connected intermodal system. This new activity is part of the three-year strategic plan of the UIC's IRRB – International Rail Research Board – working body as chaired by Prof. Boris Lapidus of the RZD Russian Railways. Results from this event will directly feed into the process of updating the present UIC document Global Vision on Railway Development which has been prepared by the IRRB just over two years ago.
Many international transport conferences dealing with research and innovation often focus on results from present-day research projects – such as for instance the TRA – Transport Research Arena and the WCRR – World Conference on Railway Research. This, of course, is very valuable.
However, innovation did not change this very much and for years the market share of this reliable and environmentally friendly mode of transport has been at the same level and too low at below 10%. Even the support of the national and European policy to use the most environmentally friendly modes of transport and arrange a modal-shift from road to rail hardly changed its market share. Therefore, the idea came up to go "top down" and look far ahead in the future like 2050 or 2060, look at the future challenges and needs, changing society and economies, scientific and technological progress and possibilities.
Based on a number of agreed future challenges, two or three scenarios will be designed, after which the role of 'guided transport' (rails and more) will be projected into each scenario. Following this, the panel of experts, supported by the audience, should then reason back from an ideal situation to the "here and now" and discuss the way forward as well as the needs for research, innovation, legislation, detect possible thresholds and discuss how to overcome them. The invited speakers and panellists will consist of (forward-looking) scientists, visionaries, entrepreneurs etc. from rail, transport in general as well as from other disciplines from outside the transport sector.
The challenges we have agreed to work with are the following:
Competitiveness of EU transport stakeholders
Decision to decarbonise transport
Information technology – new opportunities & threats e.g. cyber security and big data
New mobility system concepts
Progress towards an integrated transport system is slower than expected
Resilience of transport systems
A Scientific Board has been set up to support the Organisational Committee, led by Mr Żurkowski. The event will be held in the Global Expo Centre in Warsaw, a brand new, beautiful and well-equipped venue, well fit for the occasion.
If you think – as we do – that this event is well worth participating in and contributing to, please reserve 15 and 16 November 2018 in your busy agenda!
We will be pleased to answer your questions and are open to all good ideas and suggestions while organising this "Global debate on mobility challenges for the future society".