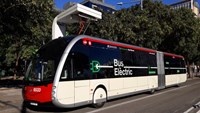 Transports Metropolitans de Barcelona (TMB) and representatives of Irizar e-mobility today officially unveiled four 18-metre long, 100% electric, zero-emissions Irizar buses at an event that took place in Barcelona's Forum Building.
These buses will begin operating from December on the H16 line (Pg. Zona Franca – Fòrum / Campus Besòs) and will join the two 12-metre long, 100% electric, zero-emissions Irizar ie buses that have been operating in the city since 2014.
These silent, zero-emissions vehicles incorporate Irizar Group technology in terms of electric traction, electronics, energy storage system and communications.
With the appearance of a tram, this vehice has 4 doors with 36 seats, 1 driver's seat, 1 wheelchair area and 1 pushchair area, and has a total capacity of 147 passengers. The bus requires a 4-5 minute opportunity charge that will take place along the route. It has a pantograph that extends from the roof of the bus and connects to the interoperable charging mast. In addition, it will also require in-depot charging at night.
With this purchase, the Barcelona-based company is tackling the first phase of transforming the H16 line ino a 100% electric, zero-emissions route.
About Irizar

Irizar is the parent company of a leading business group in the bus and coach sector and a benchmark in the sectors of electronics, communications (ITS solutions) and rotating machinery. With over 3,300 employees, the Irizar Group operates through five coach and bus production plants (Spain, Morocco, Brazil, Mexico and South Africa) and five other companies involved in different sectors in Spain, as a result of its industrial diversification policy. It also has its own R&D Centre with a long-term focus on the applied research process and the technological development of proprietary products and systems.