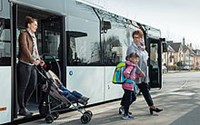 Transdev GmbH and IVU Traffic Technologies have signed a framework agreement to provide an integrated ticketing system for all subsidiaries. The Berlin IT specialist for public transport provides software and hardware for all of Transdev's buses and the data hub for Transdev's central AVL system in Germany.
With 43 subsidiaries – including 27 operating in the area of bus transport – the Transdev Group is the largest private rail and bus operator in Germany. The company has around 1,200 buses providing reliable public transport services, particularly in more rural areas and towns. Until now, each subsidiary was able to choose the provider of its respective ticketing system. The new framework agreement between Transdev and IVU will now make decision‐making easier. This should not only harmonise the Transdev Group's fare management as a whole in the long run but also improve the management of vehicle data in the company's AVL system for Germany as a whole.
With this agreement, the subsidiaries of the Transdev Group will receive, as required, the tried‐and‐ tested products that come with the IVU.suite for handling all ticket sale activities: ranging from IVU.fare for settlement and fare management to the IVU.ticket.box on‐board computer for selling tickets in the vehicle. The computer serves as a vehicle environment interface and gathers all data and transfers it to the IVU.fleet data hub, which then feeds the data to the central AVL system at Transdev. The entire on‐board system is fully compatible with IBIS‐IP and can already be used for e‐ticketing.
Transdev was particularly convinced by IVU.xpress, a special implementation process that enables short project times and rapid commissioning. "The IVU solution has an extremely high level of standardisation that meets even our extensive requirements. As a result, we are certain that the system can be implemented smoothly at all our transport companies," explained Dr Tobias Heinemann, Marketing & Sales Director (CCO) at Transdev GmbH. "Thanks to the system's modular structure, the companies are also very flexible and can individually choose the products that they need."
The framework agreement has an eight‐year term with a minimum volume of 600 vehicles. IVU has already received the first orders. Transdev has been relying on the IVU.suite's planning modules since 1997 to make optimal use of its buses, trains and staff. "We are very pleased with Transdev's decision to reach this strategic framework agreement with IVU. Dual integration – i.e. the integration of the various business processes and of the geographically dispersed transport services – is a complex challenge. Working this out day after day is exactly what we aspire to achieve with our IVU.suite," said Martin Müller‐Elschner, CEO of IVU Traffic Technologies.
About IVU Traffic Technologies
IVU Traffic Technologies AG has been working for over 40 years with more than 400 engineers to ensure punctual and reliable transport in the world's metropolises. In growing cities, people and vehicles are constantly on the move – a logistical challenge that calls for intelligent and secure software systems. The integrated standard products of the IVU.suite work to plan, optimise and control the deployment of buses and trains, provide passengers with real‐time information, create routes for parcel delivery services, and support businesses in choosing branch locations.