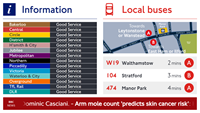 TfL has chosen a digital Content Management System (CMS) from IVU Traffic Technologies for a pilot installation, transforming the passenger information at Manor Park station.
The station, on the TfL Rail route running between Liverpool Street and Shenfield, is the site of a pilot installation of a multi‐modal passenger information system running on a Content Management System (CMS) from German IT specialist IVU Traffic Technologies. Located in the ticket hall area of the station, two large format displays enable passengers to rapidly gain information on the status of TfL Rail trains, London Underground services, and live bus departure information from the two stops adjacent to Manor Park station.
The IVU CMS is a sub‐set of IVU.realtime that is already deployed in London, delivering real time bus departure information for more than 8,500 buses to more than 2,500 LED displays at bus stops. At Manor Park it includes additional information such as the official @TfL Twitter feed, local weather, and BBC News. Disruption information is immediately notified to passengers using IVU's CMS ability to automatically supersede Twitter and News feeds with disruption information. TfL will use the pilot to carry out passenger surveys and will engage with the public to seek feedback, comments, and suggestions for possible future enhancements to their design.
Alan Bell, Managing Director of IVU Traffic Technologies UK Ltd: "We were delighted that TfL Rail selected IVU to deliver this pilot with our CMS. With our previous experience in London and other major cities worldwide and our skilled development resources we were able to confidently deliver a solution within TfL's tight timescale."
About IVU Traffic Technologies AG
With around 400 engineers, IVU Traffic Technologies AG has ensured punctual and reliable transport in the world's metropolises for 40 years. In growing cities, people and vehicles are constantly on the move – a logistical challenge that calls for intelligent and secure software systems. Based on the standard products of the IVU.suite, IVU develops customised IT solutions for public passenger and goods transport and transport logistics.
The IVU systems plan, enhance and control the deployment of vehicle fleets and staff, support the selection of locations and ensure that election results are calculated correctly. IVU products are being used by over 500 customers worldwide - be it in the form of an integrated all-round solution from a single source or interface-compatible components in a wide variety of system landscapes.