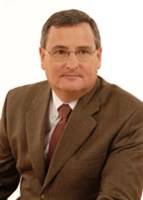 SEPTA General Manager Joseph M. Casey, who has led the Authority since 2008, today announced his retirement. After a total of 34 years of distinguished service in a number of roles, Mr. Casey will retire as general manager on September 30, 2015.
"It has been a privilege to lead this organization, and I thank the SEPTA Board for the opportunity," Mr. Casey said. "I also want to thank my staff for their efforts over the years, as well as the entire SEPTA organization for their dedication to serve the citizens of this region."
Mr. Casey began his career in transportation at Consolidated Rail Corporation (Conrail) before joining SEPTA in 1982. Prior to being appointed General Manager, Mr. Casey served for six years as the Authority's Chief Financial Officer and Treasurer and held senior management positions in Internal Audit and Finance. During his tenure as SEPTA Senior Budget Director and Chief Financial Officer, Mr. Casey was successful in establishing balanced operating budgets, streamlining expenses and reducing costs, and containing overall budget growth even in the face of skyrocketing healthcare and fuel costs.
"Joe has led SEPTA through challenging times, while consistently improving SEPTA's performance, customer service and overall public perception," said SEPTA Board Chairman Pasquale T. "Pat" Deon. "His leadership and expertise have been keys to moving SEPTA forward."
After being named General Manager, Mr. Casey created a dedicated Customer Service and Advocacy Division and focused SEPTA on the "Four Cs" - Cleanliness, Convenience, Courtesy and Communication. As a regional business, SEPTA has taken a leadership role adopting a comprehensive Sustainability program focusing on initiatives ranging from building an eco-fleet, developing alternative energy generation and storage, to station and facility recycling. In recognition of these efforts, the Authority is the proud recipient of the 2012 American Public Transportation Association (APTA) Outstanding Public Transportation System Award and the 2012 APTA Gold Sustainability Recognition.
Thanks in large part to Mr. Casey's key role as a tireless advocate for finding a dedicated, long-term funding source to address SEPTA's critical infrastructure improvements, Act 89, which provides new resources for transportation in Pennsylvania, went into effect in January 2014.
"During my time as General Manager, I committed our organization to improve the customer experience - and I can say with confidence that these efforts will only grow stronger moving forward," Casey said. "With dedicated funding for capital improvements, resulting from state Act 89, we will have resources to further enhance the riding experience for our customers, improve reliability and preserve the transit system for future generations."
A lifelong resident of Pennsylvania, Mr. Casey is a Certified Public Accountant, and holds a Bachelor of Arts degree in Accounting from Drexel University and attended Widener University for advanced business courses.
About
The Southeastern Pennsylvania Transportation Authority (SEPTA) is a metropolitan and regional transportation agency and authority[4] that operates various forms of public transit—bus, subway and elevated rail, commuter rail, light rail and electric trolleybus—that serves 3.9 million people in and around Philadelphia, Pennsylvania, United States. SEPTA also manages construction projects that repair, replace, and expand infrastructure and rolling stock.