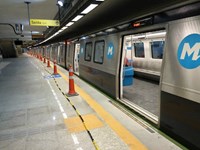 The new metro Line 4 in Rio de Janeiro, Brazil has started operating on August 1, just in time for the 2016 Olympic Games in Rio de Janeiro. The TETRA (Terrestrial Trunked Radio) communications infrastructure for Line 4 has been provided by Kapsch CarrierCom. The leading Austrian public transport and telecoms solutions company thus contributes to a smooth travel experience, enabling hundreds of thousands of sports fans to reach their destinations quickly, safely and in comfort.
TETRA offers voice and data connectivity that is dedicated, secure and highly reliable, ensuring optimal network performance. It facilitates communication for the operator, transmits relevant operational data, and thus makes a key contribution to an increasing passenger safety and efficiency. At the beginning of the year 2015, Kapsch CarrierCom was selected by project lead ENG (www.eng.it) to deliver the TETRA network for Line 4 as well as to provide four base stations, 60 in-train cab radios, 21 optical repeaters and 140 hand-held portable radios. Deadline for the implementation of the project was the start of the 2016 Olympic Games on August 5, 2016.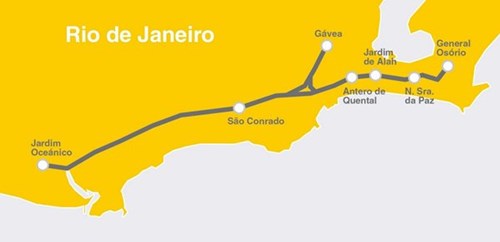 Thomas Schöpf, COO Kapsch CarrierCom: "It was challenging to finish the project in time for the upcoming Olympic Games. But thanks to our deep understanding of the communications needs of public transport operators as well as extensive experience of planning, building and operating TETRA networks, our team has managed to deliver this mission-critical solution in time."
The TETRA network was delivered by Kapsch from planning to designing and deployment. In cooperation with Rohill, the TETRA infrastructure was integrated with the existing Lines 1 and 2 and the 3rd line support. Cobham Wireless (formerly Axell Wireless) installed a distributed antenna system solution for indoor coverage, including tunnel, technical rooms and platforms. Schnoor delivered the cabin radio solution for trains with a public announcement interface.
Metro Rio is ready for the 2016 Olympic Games
"Kapsch was able to design a solution that fully meets our requirements in terms of implementation, service and functionality. As a result of Kapsch's committed effort, the new metro Line 4 has started operating just in time for the Olympics", says Pedro Augusto da Silva, Director of Metro Barra. Metro Barra is the metro in the district Barra da Tijuca of Rio De Janeiro, where the Olympic Park is located.
With 15 trains serving six major stations on 16km, the new Line 4 in Rio De Janeiro is able to carry over 300,000 people per day and to takes almost 2,000 cars off the road during rush hour. Especially during the 2016 Olympic Games, the metro line will contribute to make travelling faster and more convenient in Brazil's second largest city with approx. 6.5 million inhabitants. The new line 4 will intercommunicate the famous beachside neighborhood of Ipanema/Leblon with Barra de Tijuca, home to Barra Olympic Park, in 13 minutes. Barra Olympic Park will be the heart of Games with nine venues hosting 16 Olympic and nine Paralympic sports, alongside the Main Press Centre and the International Broadcast Centre.
About Kapsch CarrierCom
Kapsch CarrierCom is a leading, global producer, supplier and systems integrator of end-to-end telematics and telecommunications solutions. The company offers innovative, business and mission-critical products, technologies and services for rail and urban public transport operators, carrier networks and energy supply companies. Kapsch CarrierCom is a trusted partner to organisations, who benefit from a comprehensive array of professional services and round-the-clock customer service. With nine research and development centres in Europe and Asia, Kapsch CarrierCom is constantly pushing the boundaries of technology. In addition, the company works with an ecosystem of strategic partners to maximise value for clients and help them increase their business success. Kapsch CarrierCom is part of the Kapsch Group and is headquartered in Vienna, Austria.