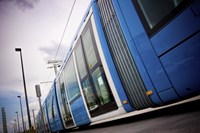 On 12 September 2017, Keolis' Australian subsidiary, Keolis Downer, was awarded the contract to continue operating Yarra Trams, the largest tram network in the world, on behalf of the Victorian Government in Melbourne, Australia.
The new franchise will commence on 30 November 2017 and expire in 2024. With the new contract, 100 new jobs will be created, with an emphasis on engineering and trades-based roles. Keolis Downer's focus will be on improving passenger satisfaction by delivering safer, more reliable and passenger-friendly services for Melburnians.
Passenger assistance will be improved thanks to better digital information, accessibility enhancements and more frontline employees providing passenger assistance across the network. With the Victorian Government's investment in a tram refurbishment program over the next five years, Keolis Downer will maximise the value of the State's assets through maintenance and renewal projects.
Melbourne's tram network, operated by Keolis Downer since 2009, includes 24 routes as well as the City Circle tram, popular with tourists. It counts 250km of double track, over 1,700 tram stops with around 410 trams operating during peak times. During this time, Keolis Downer has improved safety, passenger satisfactions and maintained punctuality during a period of growth in patronage and road traffic. Over 300 new jobs have been created, and Keolis Downer has significantly increased the number of women working for the network (up 67%), as part of its ongoing commitment to workplace diversity and inclusion.
Keolis CEO International, Bernard Tabary, declared: "We are very pleased by the trust that the Victorian Government has placed in Keolis for the next seven years. We will continue working closely with our client to operate the tram network more efficiently and to enhance the passenger experience by delivering safe, reliable, clean and easy-to-use services every day. This new contract reinforces our presence in Australia and our world leadership in tram network operations. "
Keolis is the world leader for tram operations. The company operates 1,300 trams, 75 lines spanning more than 800km around the world in the UK, Norway, Denmark, France, Portugal, Canada and Australia.
Keolis is present in Australia through a joint venture with Downer, a leading provider of engineering, transport and infrastructure services in Australia and New Zealand. With 4,000 employees and a presence in five Australian States, Keolis Downer enables 250 million passenger journeys per year. In addition to Yarra Trams, Keolis Downer operates and maintains the Gold Coast (G:link) light rail network, over 1,000 buses around the country and, since 1 July 2017, the Newcastle integrated multimodal network consisting of buses and ferries, followed by light rail in 2019.
About Keolis
Keolis is one of the world's leading public transport operators. The company is majority owned (70%) by the French state railway SNCF, the other shareholder being Caisse de dépôt et placement du Québec (CDPQ). Present in 16 countries* with 56,000 employees, Keolis operates ten different transport modes (including automated metros, trams, trains, buses, ferries, bicycles and private driver services) and develops tailored mobility solutions for each of its networks. The Group offers solutions and services via its subsidiary, Kisio. It is also the second leading car park operator in France thanks to its subsidiary EFFIA.
In 2015, Keolis transported 3 billion passengers and generated €5 billion in revenue.
*Originally established in France, Keolis has expanded its operations to Australia, Belgium, Canada, China, Denmark, Germany, India, Middle East, Luxembourg, Netherlands, Norway, Portugal, Sweden, UK and USA.