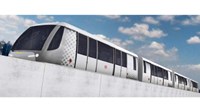 Keolis, through Shenkai, the joint venture with Shanghai Shentong Consulting, will be the future operator of the 6.7km extension of Shanghai's metro line 8.
When launched at the end of 2017, this new section will become the first automatic metro system in Shanghai.
Keolis already operates 156km of automatic metro internationally, and this contract reinforces its position as the global industry leader.
Shenkai, the joint venture between Shanghai Shentong Consulting (51%) and Keolis (49%), is confirmed as the future operator of phase 3 of Shanghai's existing metro line 8 (also known as Line 8-3), following the signing of a contract with Shanghai Shentong Metro Group on 27 April 2016.
The contract includes two years of pre-operational work and five years of network operations and maintenance.
"Keolis is very proud to bring its expertise in automatic metros to a network as emblematic as Shanghai," said Bernard Tabary, Keolis' International CEO. "This is an important milestone in our partnership with Shanghai Shentong Consulting, and we will continue to look at opportunities together in Asia and around the world."
The Shenkai joint venture pools the expertise of two public transport specialists. Shanghai Shentong Consulting, which is part of the Shanghai Shentong Metro Group, provides significant local knowledge and expertise in mass transit metro operations. Keolis, with 33 years' experience in operating automatic metro systems is the global leader in the industry. It currently operates over 156 kilometres of automatic metros lines in France (Lyon, Rennes and Lille), and in London (Docklands Light Rail). Keolis will also operate and maintain the new automatic metro of Hyderabad (the fifth largest city in India), when it is launched in the coming months.
Line 8-3 will be the first automatic metro system in Shanghai, and the second in China after Beijing. The initial fleet of 11 four-carriage trains (21 trains in the long term) will travel at up to 75 kilometres per hour and carry approximately 600 passengers per train. It is estimated that the line will transport approximately 73,000 people per day, including 7,200 people during peak hours at a 4-minute service frequency.
Construction of the project started in January 2015, with a launch scheduled for the end of 2017. Once complete the line will span 6.7 kilometres, with six completely elevated stations and one depot.
"This new contract demonstrates the trust we have established with Shanghai Shentong Metro Group, and confirms our ambition to be the mobility partner of choice for metropolises around the world," said Jean-Pierre Farandou, Keolis' Executive Chairman.
About Keolis
Keolis is one of the world's leading public transport operators. The company is majority owned (70%) by the French state railway SNCF, the other shareholder being Caisse de dépôt et placement du Québec (CDPQ). Present in 16 countries* with 56,000 employees, Keolis develops tailored mobility solutions (automatic metros, tramways, trains, buses, coaches, ferries, self-service bicycles) adapted to local environments. The Group offers solutions and services via its subsidiary, Kisio. It is also the second leading car park operator in France thanks to its subsidiary EFFIA. In 2015, Keolis transported 3 billion passengers and generated 5 billion euros in revenue.
*Originally established in France, Keolis has expanded its operations to Australia, Belgium, Canada, China, Denmark, Germany, India, Middle East, Luxembourg, Netherlands, Norway, Portugal, Sweden, UK and USA.