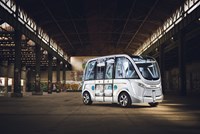 After unveiling the NAVYA autonomous electric shuttle at the UITP Global Public Transport Summit, Keolis Canada, in collaboration with NAVYA and URBIS, is pleased to announce that a one-year pilot project may soon be undertaken in the RCM of Les Moulins to complement the region's existing public transit network. Steps are being taken with the appropriate Quebec authorities to accelerate implementation of the initiative, which will see shuttles added to the initial and final stages of an existing route.
The type trial would strongly resemble the NAVLY project being tested this year in the Confluence eco-district of Lyon, France. In September 2016, the Keolis Group and NAVYA jointly launched the world's first autonomous electric shuttle service in Lyon. Keolis Canada, NAVYA and URBIS share the same public transport vision and understand the importance of protecting the environment and reducing greenhouse gas (GHG) emissions. Ideally aligned with this vision, the autonomous electric shuttle, which offers both an ecological and flexible solution, represents brand new means of transport for citizens and complements the existing driver services.
"The enthusiasm being shown for this autonomous electric shuttle project in Canada has greatly surpassed our expectations, and we're delighted with the results to date," said Patrick Gilloux, President and Chief Operating Officer of Keolis Canada. "We've long believed that electric vehicles represent the future of public transport and have type-trialled a number of them in the Les Moulins RCM region in recent years. The addition of an autonomous electric shuttle as a pilot project to complement this offer is the next logical step, and we look forward to confirming the details with you."
"This pilot project reinforces the vision of the city of Terrebonne and its GHG reduction policies," added Stéphane Berthe, Mayor of Terrebonne, President of URBIS and acting Reeve of Les Moulins RCM. "Recently, the city adopted a new policy for the acquisition of energy-efficient vehicles and installation of infrastructures, such as charging stations. NAVYA also aligns with the sustainable development plan of the city of Mascouche. This new strategy will enable us to offer improved service to our clientele."
"NAVYA is proud to contribute to the development of the new, innovative urban transit model that our transport partners at Keolis Canada and URBIS plan to launch in Quebec. Dynamic districts such as Urbanova in Les Moulins RCM are perfect for the NAVYA ARMA, as it enables people to travel easily and safely, while reducing both traffic and pollution," stated Christophe Sapet, CEO of NAVYA.
With a capacity of 15 passengers and operating at a speed of approximately 25 km/hr, the autonomous electric shuttle facilitates access and travel, saving time for both public transit users and passengers on private sites. Ideal for urban areas and specific locations such as airports, industrial facilities, amusement parks, hotel complexes and hospitals, it has been designed and developed to improve the performance of businesses and organizations by streamlining the flow of movement along the initial and final stages of a route.
About Urbis
Urbis, the public transit arm of Les Moulins RCM, manages the region's bus, shared taxi and paratransit services under the direction of the transportation committee, which is comprised of municipal councillors from Mascouche and Terrebonne. Urbis serves a total population of 161,079 citizens and accounts for more than 3.5 million trips per year. One of its main objectives is to promote and contribute to sustainable mobility in the Les Moulins RCM territory.
About NAVYA
Founded in 2014, French company NAVYA is a leader specializing in the development of innovative, smart and sustainable mobility solutions. NAVYA develops driverless automated electric vehicles that are independent of all infrastructure. Supported by investment funds Robolution Capital, the original investor, Cap Décisif Management with Fonds FRCI (Fonds Régional de Co-investissement de la Région Île de France), investment holding GRAVITATION, Français VALEO Group, KEOLIS Group, and GROUP8, in October 2016 NAVYA conducted a 30 million euro round of financing. NAVYA benefits from major advances in technology in the autonomous, electric vehicle sector thanks to its experience in the field and a highly qualified R&D team. Christophe Sapet, its CEO, is supported by a team of 120 people based in Lyon and Paris.
About Keolis Canada
Keolis Canada, a Franco-Quebec company, specializes in passenger transportation in Canada. Experts in intercity, urban, school, accessible, airport, charter and light rail transportation services, Keolis Canada offers safe and reliable high quality service thanks to a team of over 900 experienced employees. Keolis Canada operates a fleet of 396 vehicles. Every year, Keolis Canada transports almost 1 million passengers and over 1 million packages. Keolis Canada is part of the French firm Keolis Group.
The Keolis Group develops customized mobility solutions adapted to the changing needs of passengers and to the requirements of the communities that it serves. A leader in urban transportation in France, Keolis is a major player in the public transportation of passengers in Europe and around the world. The Keolis Group is owned by SNCF (70%) and Caisse de dépôt et placements du Québec (30%).