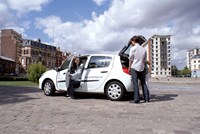 Val-de-Marne, in Greater Paris, has chosen Keolis to operate its transport service for passengers with reduced mobility. The six-year contract will start on 6 March 2017 and generate a total revenue of €21 million. This win reinforces Keolis' leadership in the Greater Paris region in services for passengers with reduced mobility. The Group currently operates around 40 on-demand transport services in France, carrying more than 1.3 million passengers every year.
Keolis, an expert in transporting passengers with reduced mobility
Keolis is France's leading provider of transport services for passengers with reduced mobility, operating 40 services across the country.
Following the renewal of the PAM75 contract on 1 January 2017 (the Parisian transport service for passengers with reduced mobility), Keolis has strengthened its position in Greater Paris by winning the operating contract for FILIVAL PAM94, the equivalent service in the Val-de-Marne region.
Keolis will operate a fleet of 32 vehicles, making an average of 60,000 trips per year.
Keolis' ability to adapt to the needs of different customers, combined with its widely-recognised expertise in accessibility, meant the Group was able to offer a service tailored to the ambitions of the Val-de-Marne region.
The Group will notably develop a new, more flexible and more efficient digital on-demand transport tool to provide a high-quality, punctual and accessible service.
An accessible and adapted on-demand transport offer
Keolis will develop mobility solutions adapted to the needs of customers in the Val-de-Marne region. Waiting times – a key concern for people with reduced mobility – will be reduced, thanks to a mobile app that allows users to track the approach of their vehicle in real-time. Passengers will also be able to manage reservations and cancellations via their individual customer account.
Keolis will organise sessions to teach passengers how to use the app.
This new contract demonstrates Keolis' commitment to providing accessible mobility for all.
About Keolis
Keolis is one of the world's leading public transport operators. The company is majority owned (70%) by the French state railway SNCF, the other shareholder being Caisse de dépôt et placement du Québec (CDPQ). Present in 16 countries* with 56,000 employees, Keolis operates ten different transport modes (including automated metros, trams, trains, buses, ferries, bicycles and private driver services) and develops tailored mobility solutions for each of its networks. The Group offers solutions and services via its subsidiary, Kisio. It is also the second leading car park operator in France thanks to its subsidiary EFFIA.
In 2015, Keolis transported 3 billion passengers and generated €5 billion in revenue.
*Originally established in France, Keolis has expanded its operations to Australia, Belgium, Canada, China, Denmark, Germany, India, Middle East, Luxembourg, Netherlands, Norway, Portugal, Sweden, UK and USA.