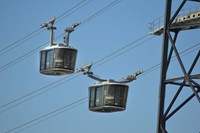 Brest Métropole and the Keolis Group launch a new mode of urban transport: the cable car. For the first time ever in France, cable cars will no longer simply be used as a tourist attraction, but as a viable collective transport mode.
The cable car service will be integrated into the existing Bibus public transport network, operated by Keolis Brest on behalf of Brest Métropole.
Bolstered by this new expertise, Keolis is reinforcing its position as multimodal leader, and intends to develop this new transport mode in other cities.
Cable cars as a means of urban transport
Incorporated into the Bibus public transport network, already operated by Keolis, the cable car system is a practical, economical and environmentally-friendly way to efficiently overcome the challenges involved in serving areas that are difficult to access.
This particular service is a world first in cable car design: rather than travelling in parallel, the cable cars circulate one above the other. This innovation optimises platform capacity and allows more compact stations to be built.
It is an automated system, overseen remotely by Keolis teams from the Centralised Control Station, 5km away from the site.
Operating for 358 days per year, the cable car service will initially run from 7.30am to 7pm Monday to Saturday and from 8.30am to 7pm on Sundays; a regular service from to 7.30am to 12.30am every day is to be put in place shortly after its launch.
A service integrated with the public network
The cable car service will support the redevelopment of Capucins, a new "eco town" in the middle of Brest that remains difficult to access by tram or by bus. It can be operated in four different ways, according to scheduled timetable, passenger demand, ticket validation (in times of low footfall, service departs when a ticket is validated), or operator command (departures triggered remotely by the operator). Journey times will be dramatically reduced, with connection times shortening from 25 minutes to just 3.
Thanks to the speed of the service, the regularity of cabins (one approximately every 5 minutes) and their large capacity (each holding up to 60 passengers), the cable car service will transport around 1,850 people per day.
The introduction of the tramway service in 2012 saw almost a 40% increase in travel on the Bibus network. Keolis is hoping for a similar increase in network usage with this launch. Once development of the Capucins area is complete, the cable car service is expected to transport around 675,000 passengers per year.
The cable car network: inspiring cities of tomorrow
By introducing this cable car service, Keolis is offering a new, safe, practical and environmentally-friendly way to travel. Cable cars have emerged as a useful way to connect, or even open up, some urban areas. Implementing this service helps to facilitate the daily mobility of local people in Brest, as well as increasing the allure of the city itself.
Frédéric Baverez, Executive Director of the Group for France, comments that "At Keolis, we firmly believe in the potential that cable cars hold for urban transport, particularly when there are obstacles to navigate such as rivers, or large road or railway infrastructures. It is a transport solution that offers a very good compromise between investment and capacity. Many communities are taking an interest in Brest's new transport development and we are very proud to have been selected by Brest Métropole to accompany them in launching the first urban cable car service"
For Keolis, this innovation in Brest provides the opportunity to develop new skills so as to promote cable cars as a viable collective transport mode elsewhere in France. Many other cities have since become interested in Brest's project, and by 2022, Orléans, Toulouse, Chambéry, Grenoble and Créteil are expected to have their own cable car system in place.
About Keolis
Keolis is one of the world's leading public transport operators. The company is majority owned (70%) by the French state railway SNCF, the other shareholder being Caisse de dépôt et placement du Québec (CDPQ). Present in 16 countries* with 56,000 employees, Keolis develops tailored mobility solutions (automatic metros, tramways, trains, buses, coaches, ferries, self-service bicycles) adapted to local environments. The Group offers solutions and services via its subsidiary, Kisio. It is also the second leading car park operator in France thanks to its subsidiary EFFIA. In 2015, Keolis transported 3 billion passengers and generated 5 billion euros in revenue.
*Originally established in France, Keolis has expanded its operations to Australia, Belgium, Canada, China, Denmark, Germany, India, Middle East, Luxembourg, Netherlands, Norway, Portugal, Sweden, UK and USA.