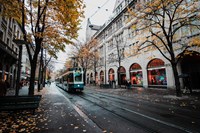 Keolis' Australian subsidiary Keolis Downer, has started operating Newcastle's new light rail service as part of the city's multimodal transport network. Operations are starting ahead of schedule, giving local residents and visitors the opportunity to benefit from the new service sooner than expected.
This new milestone reinforces Keolis' presence in Australia where it has introduced and operated light rail networks, buses, on-demand transport and autonomous electric vehicles since 2009. It also illustrates Keolis' commitment to support the delivery of seamlessly integrated, shared mobility systems that revitalise cities and makes them more enjoyable and more liveable
On 18 February 2019, Keolis' Australian subsidiary, Keolis Downer, started operating the new light rail of Newcastle on behalf of Transport for New South Wales a month ahead of schedule. Located north of Sydney, Newcastle is home to 360,000 people who have access to a multimodal transport network operated by Keolis Downer. Awarded in December 2016, the multimodal transport contract was the first of its kind to be entrusted to a private operator in Australia and covers the operations and maintenance of the entire network (light-rail, buses and ferries) for a period of 10 years. In July 2017, Keolis Downer started operating the bus and ferry services and in January 2018 re-designed the bus service while introducing a real-time, on-demand transport service, powered by Via, the leading developer of shared ride technology.
Keolis Downer's team worked relentlessly to launch services ahead of schedule. As part of the testing phase, 14 drivers were trained and a record 10,000km driven in just over four months, equivalent to 1,000 trips per tram across the network. The 2.7km long network features six stations and runs between Wickham and Pacific Park. This new network provides Novocastrians with a new way to travel while efficiently connecting with existing bus and ferry services. It has been integral to the revitalisation of Newcastle, opening the city back up to its waterfront and connecting it all with an integrated multimodal transport network. Furthermore, the line is catenary free preserving Newcastle's urban landscape from overhead wires.
About Keolis

More than just an everyday transport operator, Keolis is one of the world leaders in shared mobility. As an expert in multimodality, the Group is a partner of public policymakers who want to make mobility an asset for the attractiveness and liveability of their community. Dedicated to passengers and attentive to their individual needs, we work every day to provide more enjoyable, more human ways of getting around.