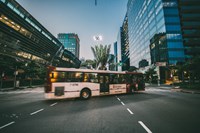 Keolis' subsidiary in Norway was awarded its first bus network by Skyss, the public transport authority of Bergen, to operate a 9½ year contract in the centre and west side of the city. The €333M contract, which comes into effect on 1 December 2020, concerns a fleet of 136 mainly electric buses that run on 100% renewable energy. The buses will contribute to improved quality of life to the nearly 300,000 inhabitants of Bergen.
With this new contract, Keolis reinforces its presence in Norway, where it already operates the Bergen light rail network.
Bernard Tabary, CEO International of Keolis Group said: "We are delighted that Skyss has entrusted us to run the Bergen bus network and we are looking forward to a close collaboration. Winning this contract gives us the opportunity to create synergies between our Bergen light rail network and the new bus operation and to offer our passengers a more integrated mobility offer. The 100% fossil free bus fleet will enhance Bergen's quality of life appeal ever further."
In total, the whole fleet is expected to run a total of 5.7 million kilometres and carry 17 million passengers annually.
The successful operation of the Bergen's light rail, coupled with the Keolis Group's expertise gained through its many bus operations around the world, provides a solid base for running Bergen's bus network.
Keolis has been present in Norway since 2010. With this new contract, its presence in the country will increase to around 500 employees. Keolis operates the Bergen light rail network since 2010, which is 20 kilometres long and counts 28 trams. The contract was recently renewed for another eight years and now includes maintenance in addition to operations. The success of this light rail network has encouraged the public transport authority to develop plans for further expansions, with firm plans for a northern line and a new extension to the western line due to open in 2022. Between 12 and 14 new trams will be added to the network.
About Keolis

More than just an everyday transport operator, Keolis is one of the world leaders in shared mobility. As an expert in multimodality, the Group is a partner of public policymakers who want to make mobility an asset for the attractiveness and liveability of their community. Dedicated to passengers and attentive to their individual needs, we work every day to provide more enjoyable, more human ways of getting around.