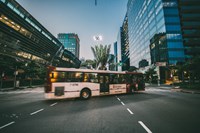 Keolis has been awarded a six-year contract which will generate total revenue of nearly €23 million to operate the public transport services across the 44 towns and villages making up the Moulins Community, starting on 1 September 2019.
The main aspects of this contract involve implementing a new transport network, replacing the fleet of buses and introducing a new ticketing system. Keolis will completely rethink mobility across the urban area and introduce a new appealing, connected and coherent service offering.
Following an invitation to tender, the Moulins Urban Community Council (65,000 people) in central France selected Keolis to manage and operate its public passenger transport services made up of buses, on-demand transport, transport for people with reduced mobility and self-service electric bicycles. This six-year public service delegation contract is a major step for the Moulins Community which is keen to revitalise its public transport network and turn it into a fully-fledged lever to develop sustainable mobility. The network called Aléo will quickly evolve into a more modern, more appealing and more accessible network. Keolis will provide numerous improvements, meeting the aims of the Moulins commune.
Starting on 1 September 2019, the new network will be brought into service to facilitate journeys around the urban area.
Launch of three new A/B/C bus lines with frequent and regular services, and an even more frequent service on Saturdays and during short school holidays.
Bolstering of the on-demand transport service, supplementing coverage of the Moulins Community with better customer service: booking possible from 7 AM to 6 PM, Monday to Saturday, up to 2 hours before your journey via call centre agents at the Keolis regional booking office.
Development of soft modes of transport with a fleet of 350 electric bicycles, that Keolis will provide for hire, allocating staff and providing dynamic digital and targeted communication, in partnership with local events.
Enhanced passenger experience thanks to a fleet of overhauled vehicles and real-time information aboard. All the vehicles will be fitted with Operational-Aid and Passenger Information Systems providing real-time information, optimised regulation and enhanced control of the activity.
About Keolis

More than just an everyday transport operator, Keolis is one of the world leaders in shared mobility. As an expert in multimodality, the Group is a partner of public policymakers who want to make mobility an asset for the attractiveness and liveability of their community. Dedicated to passengers and attentive to their individual needs, we work every day to provide more enjoyable, more human ways of getting around.