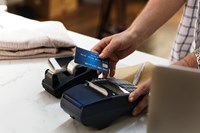 Dijon Metropole and Keolis continue to innovate. Since launching France's first public service delegation contract for a truly multimodal mobility network in 2017 (combining all modes of public transport, as well as the parking and bike-share), Dijon Metropole is the now first French metropolis to propose an open payment solution for public transport.
Inaugurated on 27 March 2018 on Dijon's trams, open payment allows passengers (tourists, occasional or regular passengers who have forgotten their ticket) to pay for and validate their journey directly using their contactless payment card or smartphone, regardless of their bank.
The service has had excellent results since its launch, far exceeding objectives.
Since its entry into service on the trams, 240,000 journeys have been made using contactless payment cards (versus initial forecasts of 30,000), by 46,000 different customers. 02.11.2018 2
Since the start of the school term in September, open payment is used by nearly 2,000 passengers per day, an increase of 50% compared to June.
22% of daily users are new customers.
Open payment allows users to avoid queues at ticket machines, in stations, or to avoid buying a ticket from the bus driver, which can be more expensive. All they have to do is board the vehicles and validate their journey by holding their contactless payment card or their smartphone up against the dedicated validation terminal.
Passengers can rest assured they are always paying the lowest price for their journey, without having to present a paper ticket during inspections. The open payment system applies the pricing for normal tickets. After three trips have been validated, the daily pass rate is applied, capping the amount paid for an unlimited number of trips the same day. During inspections, validation of the passenger's payment card or smartphone on the controller's terminal is sufficient to prove their right to travel.
Users of the service who want to view their travel history or print a receipt can simply go to the website https://openpayment.divia.fr/index, create their account and enter their bank card details. This dedicated web page is secured based on international banking standards and Divia Mobilités does not store any data related to payment cards.
About Keolis

Leading the way in public transport, Keolis partners with public decision makers to make shared mobility an asset for cities and their communities. Internationally recognised as the leading operator of trams and automated metros, Keolis adopts an innovative approach with all its partners and subsidiaries (Kisio, LeCab, EFFIA, Keolis Santé and Cykleo) to develop new forms of shared and customised mobility, and reinforce its core business across a range of transport modes including trains, buses, coaches, trolleybuses, shared private hire vehicles, river shuttles, ferries, cycles, car sharing services, electric autonomous vehicles and urban cable cars.